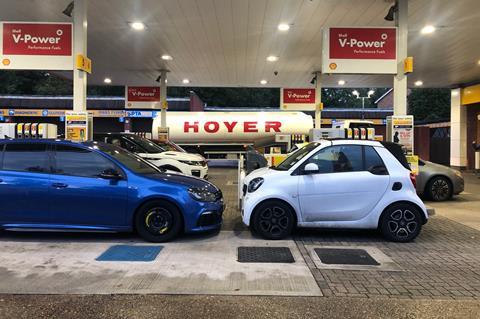 Latest government statistics show fuel sales were 80% up on the first day of panic buying compared with the previous day and stock levels at fuel filling stations plummeted.
Sales figures released by the Department for Business, Energy & Industrial Strategy (BEIS) show the average petrol filling station sold 20,131 litres on Thursday September 23 and this rocketed to 35,937 litres the following day while average deliveries for the two days were 17,560 litres and 17,740 litres.
Sales for the next three days outstripped deliveries with 24,097 litres sold against 16,651 litres on Saturday September 25, 17,705 litres versus 17,460 litres on Sunday and 20,848 litres compared with 20,496 litres on Monday.
Tuesday was the first day of the crisis when deliveries outpaced sales with 20,888 litres sold and 22,732 litres delivered – the highest one-day figure for deliveries since the report began in January 2020. For all subsequent days until the figures end on Sunday October 3 deliveries were greater than sales.
Meanwhile, average stock levels fell from 32% full on Thursday September 23 to 20% the following day, and reached their lowest point at 15% on Saturday September 25. They remained at 16% for the following two days and only reached 20% by Thursday September 30. By the final day of the figures, Sunday October 3, stocks had risen to 25%.
Even with the surge towards the end of the month figures for the past four weeks show overall sales were only fractionally above the four-week average before the pandemic (17,780 litres versus 17,740 litres). Sales the previous month had been 90.8% of pre-pandemic levels.
Average stock levels over the same period were 32% compared with the pre-pandemic average of 43%.
The figures from BEIS are based on end-of-the-day snapshots of petrol and diesel sales and stock levels from a sample of around 4,500 filling stations across Great Britain.
However, the fuel volumes are collected primarily from oil companies, supermarkets and large independent filling stations, and this results in higher daily average figures than if all independent volumes were included.