By hosting parcel lockers on forecourt sites, owners can reap several benefits, including added revenue generation and community engagement, while helping to improve sustainability. Here's how.
In the ever-evolving retail landscape, many businesses – forecourts included – are embracing innovation in an effort to enhance their customer experience and attract new visitors.
Adding on-site features, such as smart lockers for parcel collection and returns, can offer both convenience to customers and a competitive differentiator for locations that choose to install them.
Early adopters in the industry have partnered with delivery companies or logistics providers to host smart parcel lockers for the collection of in-store orders or for one carrier's exclusive use.
Now, carrier-agnostic or open locker networks are changing the game – allowing forecourts to gain all the benefits typically associated with installing lockers without the usual upfront costs.
The quest for convenient out-of-home delivery options
Given the ongoing consumer adoption of online shopping, the need for seamless parcel deliveries and collections has become more pronounced, both for retailers and carriers. Consumers expect speed and convenience; businesses, however, must balance meeting these consumer needs with operational expenses and sustainability goals. This has created significant demand for secure and easily accessible out-of-home collection points.
This demand is the intent behind open locker networks, an emerging solution to out-of-home delivery that leverages convenient, centralised smart locker hubs for parcel deliveries, as well as order collections and returns.
Open locker network hubs are typically located in secure, highly-trafficked areas – making them an easy, consumer-friendly alternative to home delivery. However, carriers, retailers and consumers aren't the only ones who benefit.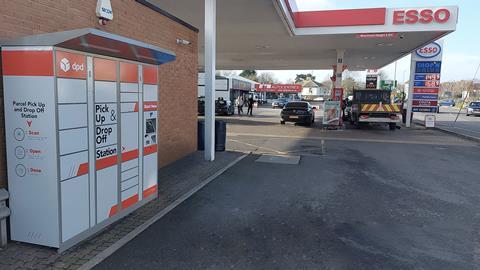 Locker hosts – namely, any business that chooses to install a locker hub at their location(s) – can realise benefits such as increased foot traffic and brand visibility. By simply having a locker on-site, hosts become integral to customers' daily routines, offering a secure, convenient location for deliveries and returns.
Picking up or returning parcels to a smart locker takes less than 30 seconds, creating a higher chance of a consumer shopping in-store following their pick-up or return, as well as enabling a unique opportunity for hosts to reshape their revenue streams.
Hosts that place smart lockers at their locations also contribute to a global locker network that reduces pickup points, lowers greenhouse gas emissions, and eases roadway congestion. This commitment to sustainability aligns with the broader goal of creating cleaner and more livable communities.
Most importantly, open locker network hosts are able to reap all the above listed benefits without any of the costs typically associated with installing or maintaining lockers.
The advantages of parcel lockers for forecourts
Anyone can be an open locker network host, but forecourts, strategically positioned and operating with extended hours, have the potential to reap significant benefits:
Elevating customer experience:
Installing parcel lockers in forecourts raises the bar for customer experience by offering a hassle-free and expedited parcel pickup and return solution. Customers can retrieve or drop off their packages conveniently, eliminating missed deliveries and long wait times at traditional outlets. Lockers can be another added benefit forecourts already offer their communities.
Fostering sustainable practices:
Parcel lockers promote sustainability by reducing the carbon footprint associated with last-mile deliveries. Centralised locker locations diminish the need for multiple delivery attempts, thus conserving fuel and lowering emissions. By placing lockers, your company can support the United Nations Sustainable Development Goals that most dealers and independent operators strive to achieve.
Empowering the community:
By introducing parcel lockers, forecourts extend a helping hand to their communities. These lockers become collection points for neighbours, offering a shared space where residents can conveniently access their parcels, thus strengthening community ties. This aligns with the trend identified in the ACS Forecourt Report, which stated that 69% of independent forecourts engaged in community activity in 2022.
Driving footfall and revenue:
The integration of parcel lockers offers a dual advantage of increasing footfall and revenue for forecourt businesses. Customers arriving to collect their parcels are more likely to explore the forecourt's offerings, leading to potential additional sales.
In a recent consumer survey, most stated they would pick up or return a package at a smart parcel locker. More importantly, they would visit a business more regularly if there was a parcel locker on the premises and would likely spend additional money on goods or services from the host location.
Visual brand identity: Placing parcel lockers provides a unique branding opportunity. Forecourt businesses can gain awareness from being a part of an entire open locker network of carrier-agnostic partners who will flag your business as a local package pickup and return location.

Unlock new revenue streams for your business with parcel lockers
In short, the integration of parcel lockers within forecourt facilities presents a unique opportunity for businesses to heighten customer experience, foster sustainability, amplify community engagement, and augment revenue — without any upfront costs.
Given consumers' love of online shopping, facilitating a seamless and eco-conscious parcel collection solution positions forecourts as pioneers in innovation. By leveraging their existing strategic locations and collaborating with reputable locker providers, forecourt businesses can seamlessly integrate this multifaceted service, serving their commercial interests and improving the community.
What to look for in a locker network partner
Incorporating parcel lockers into your forecourt operations should be easy and allow your locations to near-immediately reap the rewards. Here are a few things to consider if you're investigating parcel lockers and providers:
Choose an experienced partner:
Not all locker providers are equal. More established parcel locker providers, for instance, can offer no-cost installation models and free ongoing maintenance. Seek partners with a proven history of successful deployments and reliable customer support.
Find the largest carrier network:
Ask each locker provider about their network sizes and experience. This helps to ensure your forecourt locations can gain immediate access to a larger pool of consumers and can quickly increase foot traffic.
Conduct a site assessment:
Ask the vendor if they can help conduct a comprehensive assessment of your forecourt layout to identify the most strategic location for parcel lockers. Ideally, they should consider factors such as visibility, accessibility and security in selecting an installation location.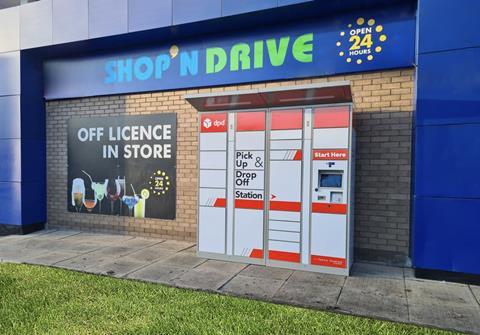 Delivering more for your customers with Parcel Pending by Quadient
A global leader in parcel lockers with more than 18,500 locker systems installed worldwide and established open locker networks in Europe, Japan and the US, Parcel Pending by Quadient is one of the largest carrier-agnostic platforms to solve the global package management problem successfully.
Parcel Pending by Quadient is also one of the only companies to offer a completely carrier-agnostic locker solution that guarantees secure and hassle-free parcel deliveries and returns. Tailored options cater to specific host requirements, making the entire process – from site selection to implementation and maintenance – efficient for everyone.
Most importantly, Parcel Pending by Quadient's Open Locker Network solutions are designed to be completely self-service, requiring no involvement from host businesses. This frictionless experience enables hosts to offer competitive services and open new revenue streams with minimal effort and no out-of-pocket expense.
Want to learn more? Fill out the form to schedule a brief call with Parcel Pending by Quadient here


Quadient is the driving force behind the world's most meaningful customer experiences. By focusing on three key solution areas, Intelligent Communication Automation, Parcel Locker Solutions and Mail-Related Solutions, Quadient helps simplify the connection between people and what matters. Quadient supports hundreds of thousands of customers worldwide in their quest to create relevant, personalised connections and achieve customer experience excellence. Quadient is listed in compartment B of Euronext Paris (QDT) and is part of the CAC® Mid 60 and EnterNext® Tech 40 indices.
View full Profile