In the competitive forecourt market, site operators need to be agile in order to manage rapidly evolving consumer expectations – and using smarter technology can keep them one step ahead.
In today's highly competitive forecourt retail landscape, efficient operations that enable site owners to deliver an enhanced customer experience and service, while at the same time offering value, have become essential to the sector.
For years, the forecourt industry has focused on reducing costs and increasing operational efficiency. But in order to improve their customers' experience and stay one step ahead of growing competition, forecourt retailers must be willing to invest in innovation and technology, and explore available opportunities. Forward-thinking forecourt sites need to adapt quickly to meet ever-changing consumer trends.
Challenges in the modern forecourt arena include efficient management of online orders for food, as well as speeding up payments at fuel pumps. To meet both of these needs, Henderson Technology has launched two new app integrations this year.
Channelling online orders efficiently
Deliverect, a leading platform for managing online orders, provides a software solution that brings together all online-order and delivery channels, such as Uber Eats, Deliveroo and Just Eat, directly to an EPOS solution. EDGEPoS, the EPOS software system from Henderson Technology, is now partnering with Deliverect to create a smarter option for forecourt sites.
Key benefits include:
All online orders in one place
Central menu management
No need for separate tablets to manage delivery orders (traditionally retailers needed a tablet per delivery channel – sometimes managing up to 10 tablets)
No need for manual re-entry of delivery orders at the POS
Get insights and reports on product and delivery channel sales
Henderson Technology is currently piloting Deliverect with five EDGEPoS UK forecourt and convenience retailers. These businesses are looking to connect their EPOS systems with Deliverect to meet the growing consumer trend in on-demand delivery.
Darren Nickels, retail technology operations director at Henderson Technology, says: "Being able to offer our retailer customers a hassle-free delivery platform integration directly to their EDGEPoS system is an exciting proposition.
"Deliverect not only provide an integration with EDGEPoS and linked delivery platforms, but it also allows the retailer to amalgamate all of their delivery partners, to have one central point for menu management and order management. It allows the retailer to reduce training and labour hours with one platform managing all channels in a fraction of the time.
"We have also developed an auto snooze functionality when items are out of stock. This will provide to our EDGEPoS convenience and forecourt retailers looking to integrate Deliverect with a competitive edge."
New payment app launched
In partnership with Blu Dot Technologies, Henderson Technology has also launched a new mobile pay-at-pump app called Fuel Pay.
On arrival at the pump, motorists can use the Fuel Pay app to select the pump, fuel grade and the amount to refuel. The pump is authorised in-store and then refuelling can begin. Payment automatically uses the card assigned during initial registration. On completion the motorist simply drives away, with their VAT receipt e-mailed automatically.
Forecourt operators can drive profitability by enabling this new digital payment which offers multiple benefits, such as:
Driver friendly payment method – intuitive user experience that allows the driver to refuel quickly and easily
Put forecourts on the map - drive new customers to forecourts using the station finder
Modernise businesses – Fuel Pay is integrated with debit/credit cards, fuel cards and local accounts (which forecourts might have e.g., local taxi firms)
Customer loyalty – Fuel Pay is integrated with Azpiral Staff Loyalty and will be further integrated with Azpiral customer loyalty
Nickels adds: "Often, outdoor payment terminal (OPT) solutions can be expensive and require investment in new pumps. This is a cost-effective solution for customers who simply want to purchase fuel without having to enter the store and can be run in conjunction with existing OPT.
"Fuel Pay offers forecourt retailers a number of benefits – it is simple and secure to use, it allows retailers to stay ahead of their competition, and the experience is quick and convenient for motorists.
"We have also identified an area in the market for drivers who need assistance when fuelling their vehicle and as a result we have developed Fuel Pay Assist.
"We know Fuel Pay Assist will be a huge benefit to the 2.44m Blue Badge drivers, as well as other motorists requiring assistance, and those retailers looking to serve them with outstanding customer experience."
Fuel Pay is available as a standalone app or can be added to existing Appetite! app integrations. Appetite! is a pre-order-pre-pay delivery and collection app for grocery and food-to-go, including drive-thru collection and in-store kiosks. It is fully integrated to EDGEPoS, ensuring live stock reporting on both the app and EDGEPoS back office.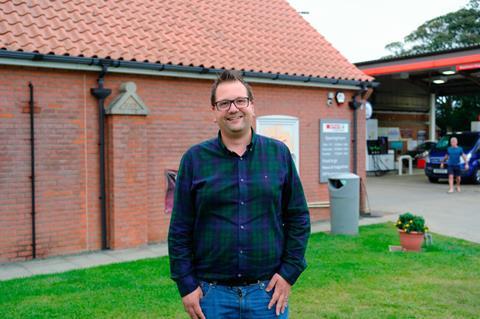 Case study: how retail technology is enhancing one forecourt's future
One forecourt owner who is reaping the benefits of EDGEPoS is Tom Dant, managing director of Joe Marsh Forecourts Limited.
With six sites across the group and a total turnover of approximately £25m, Dant's three forecourts sell approximately 50 million litres of fuel a year.
"We knew a few retailers that had installed EDGEPoS, and we had heard positive things about them. We were looking to replace our EPOS system due to its age, and lack of functionality, so we thought we would try EDGEPoS in one site. And so far, the results have been very positive," says Dant.
"We put self-checkout in our Ulceby Cross site in Lincolnshire just to give it a trial, with the main aim of being able to ease the queues and get customers in and out quicker. We can now serve more customers and are growing the business.
"We are a very forward-thinking business and we're always trying to find the next trend and look for the next big thing. It is really important to us to be able to do that, so we can run a more efficient business.
"The addition of electronic labels have been great because our managers can now spend more time managing rather than sat in the back office. And EDGEPoS has helped us to do that by automating a lot of our tasks and reporting from accounting to general pricing and day-to-day tasks. We are currently developing and taking our Ulceby Cross site from a 600sq ft forecourt to a 3,500sq ft roadside services destination. Therefore, we needed an EPOS system that would be able to scale up and manage a site at that size with heavy fresh food deli and food-to-go.
"We're going to be able to eventually have a four-lane checkout – two manned and two self-checkouts – so that we can serve customers better and grow our business in general."
Dant firmly believes that the future of his sites relies on technology and the implementation of new initiatives and digital to drive the business. He adds: "If you're looking for a new EPOS system, then definitely give EDGEPoS a shout.The big things for us are the time saving in repetitive tasks, automated reporting for our accounting and everything else. And just the fact that the system is modern, quick and works, which is a major positive."
EDGEPoS
Henderson Technology provides forward-thinking solutions, enabling businesses to maintain their competitive edge and ultimately boost profitability. As forecourts enter an era where many more new possibilities will open up, it is more important than ever to make businesses more agile and efficient.
With continuous development and innovative integrations and partnerships, EDGEPoS is one of the most powerful and feature-rich systems in which UK forecourt operators can invest.

Henderson Technology is one of the largest EPOS suppliers in UK with over 840 sites installed globally. EDGEPoS is an award-winning EPOS system, designed by retailers, specifically for the convenience and fuel forecourt market.
View full Profile