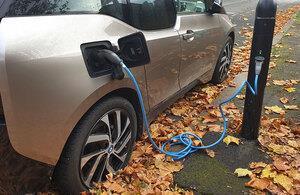 New laws aimed at improving the charging experience for drivers of electric vehicles (EV) were approved by MPs last night (October 25).
The new regulations aim to ensure that prices across chargepoints are transparent and easy to compare and that a large proportion of new public chargepoints have contactless payment options.
Providers will also be required to open up their data, so drivers can easily find an available chargepoint that meets their needs. It will open up data for apps, online maps and in-vehicle software, making it easier for drivers to locate chargepoints, check their charging speeds and determine whether they are working and available for use.
The measures come as the country reaches record levels of public charging infrastructure.
Technology and Decarbonisation Minister, Jesse Norman, said: "Over time, these new regulations will improve EV charging for millions of drivers, helping them find the chargepoints they want, providing price transparency so that they can compare the cost of different charging options, and updating payment methods.
"They will make the switch to electric easier than ever for drivers, support the economy and help the UK reach its 2035 goals.
"Once the regulations come into force, drivers will also be able to contact free 24/7 helplines for any issues accessing charging on public roads. Chargepoint operators will also have to open up chargepoint data, making it easier to find available chargers."
James Court, CEO, Electric Vehicle Association England, said: "Better reliability, clearer pricing, easier payments, plus the potentially game-changing opportunities of open data are all a major step forward for EV drivers and should make the UK one of the best places to charge in the world.
"As the rollout of charging infrastructure gathers momentum, these regulations will ensure quality and help put consumers needs at the heart of this transition."
The new regulations follow the government's recent announcement of a range of measures to speed up the installation of chargepoints through the Plan for Drivers. This includes reviewing the grid connections process for installation and extending chargepoint grants for schools.
The government also continues to support the rollout of charging infrastructure in local areas. Applications are currently open to local authorities in the first round of the £381 million Local EV Infrastructure fund, which aims to deliver tens of thousands more chargepoints and transform the availability of charging for drivers without off-street parking. In addition, the On-Street Residential Chargepoint Scheme (ORCS) is open to all UK local authorities.
The government recently set out its path to reaching zero emission vehicles by 2035, which will require 80% of new cars and 70% of new vans sold in Great Britain to be zero emission by 2030. Today's regulations are targeted at helping support drivers as more switch to electric.
Today the government has also published its response to the Future of Transport Zero Emission Vehicles consultation, confirming its intention to introduce laws to require local transport authorities to produce local charging strategies if they have not done so as part of local transport plans. It aims to ensure that every part of the country has a plan for EV charging infrastructure.