What does the future of forecourt retailing look like? In this article we take a look at Henderson's community-focused forecourt site epitomising their latest thinking future concept strategy.
According to 'The Forecourt Report 2022' by Association of Convenience Stores (ACS), the UK's forecourts are making a crucial contribution to the economy and the communities they serve.
The report notes that forecourts are an important part of the wider convenience sector, with thousands of customers seeing forecourts as their local shop and stores continuing to innovate in new services like Post Offices and food-to-go, as well as investing in alternative power options for vehicles and diversifying their range of products.
One site which epitomises this is Spar Mallusk, a forecourt and convenience store outlet specifically designed following extensive local customer research.
The site was built with an understanding of its core customer demographic and, as a result, two zones were built – a 'For Now' zone that is extremely busy, but also a 'For Later' zone that includes Newtownabbey's Mayfield Village Butchers, which the local community trusts and supports. It also offers an amazing array of fresh foods, 75% of which is supplied by local fresh suppliers.
Located in Newtownabbey, a large town just north of Belfast, the highly anticipated opening of Spar Mallusk took place on 28 October 2022.
The multi-million-pound investment by Henderson Retail consists of an all-new forecourt and convenience store outlet, which also brings the first-ever Barista Bar Coffee Drive-Thru exclusively to the local area.
The total renovation and extension of the store took six months to complete and has created 28 jobs. It is a retail space where those who live and work in the area can pick up everything for tonight's tea, as well as breakfast, lunch, or dinner on-the-go.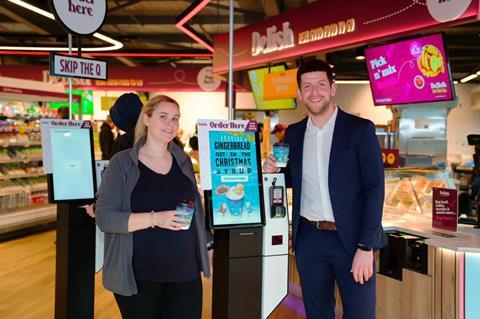 Future forecourt concept
Damien Nevin, Henderson Group retail development manager, says the outlet is the future of forecourt retailing.
"This modern outlet is multi-purpose, packed with new services and products under one roof. When designing this site, we wanted to ensure we were delivering on freshly prepared food-to-go options, alongside an abundance of value-driven local products and essentials for tonight's tea and beyond, as well as attractive consumer services that make us stand out in a busy marketplace.
"We knew we had a busy transient customer database on our forecourt which did approximate sales of 2.2 million litres of fuel per year with our fuel partner Maxol.
"The existing Spar retail unit shop was approximately 2,294sq ft and, when the opportunity came up to buy the neighbouring site, this gave us the chance to increase the size of the retail unit offering, and make it approximately 5,442sq ft of selling space.
"The two 'For Now' and 'For Later' zones enable us to cater for customers at various times and parts of the day, as well as our evening and weekend customers whom we were not able to capitalise on before.
"This is a really ambitious store for us; it's something very different and is built around our latest thinking future concept strategy."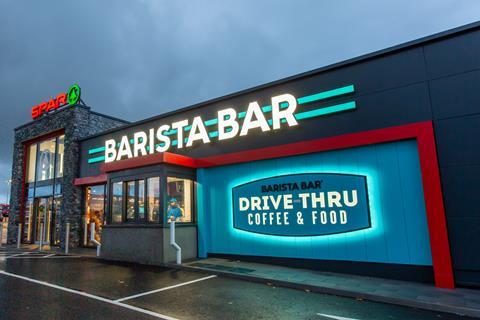 The first-ever Barista Bar Coffee Drive-Thru
This future strategy has resulted in an exclusive offering from Spar's newest food-to-go brand, Delish, complemented by Northern Ireland's first Barista Bar Drive-Thru and a Subway counter – a combination of products and services that will be a huge draw to the high footfall, low dwell time shoppers the team expect for the area.
Breakfast, lunch and dinner from Delish and Barista Bar in-store can also be ordered online via the Spar Savvy Shopper App and collected in-store, a real plus for time-pressed consumers, explains Nevin.
"Every part of the store has been considered and built for differing shopper demands," he says. "Barista Bar, created by Henderson Group's foodservice business, Henderson Foodservice, has seen exceptional growth in the past couple of years. The popular coffee brand has gained an even greater presence across Spar, Eurospar and Vivo branded stores and now we are delighted to introduce the first drive-thru concept for the brand.
"Shoppers can expect the full Barista Bar experience at the drive-thru as well as take advantage of a full hot breakfast, lunch and treats menu from Delish."
In-store, Spar Mallusk houses three Barista Bar machines, one of which is new concept, Barista Bar Planted, providing the same great taste and quality of a signature barista brew with non-dairy options at the touch of a button, reveals Nevin. It is only the second machine to be introduced to stores in Northern Ireland.
Delish is Henderson's new, fresh, food-to-go brand, which is being rolled out across its stores. This brings freshly made in-store hot and cold offerings for breakfast, lunch, and dinner, from traditional hot food to culinary trends, all made with quality ingredients.
Nevin continues: "Delish at Spar Mallusk offers the full new experience. We have carefully selected a range that provides our shoppers with fantastic quality and choice, in an easy-to-order format, at great everyday value."
The community-focused forecourt site also provides additional parking, with 90 parking spaces and a 4-pump Maxol forecourt on-site, while in-store, additional services include a full-service Post Office and three self-service checkouts. The site is open Monday to Sunday, 6am-11pm, with the Barista Bar Drive-Thru open daily from 7am-7pm.
The addition of modern EDGEPoS technology
Retail technology has played a huge role in the development of Spar Mallusk. "There is a whole layer of systems that the customer does not see, and then our future concept additions that the customer can see and use," adds Nevin.
On the forecourt, there are 10 lanes of EDGEPoS scanning, three of those are cash and card self-checkout lanes, which has a massive positive impact of getting customers in and out of the store quickly. The Glory Cash Management has been integrated into the cashier and self-checkout tills, as well as the back of house Glory system.
"We brought in new technology that is a first for Henderson Group – this was an integrated project between Henderson Technology and Bludot Technologies, which sits in the form of two self-serve kiosks for our food-to-go counters. Customers can come into the store, order and pay for their food on the self-serve kiosks, and go to the collection point in-store to grab and go.
"The team at Henderson Technology have always been key to us delivering our latest ideas in retail technology, and meeting all customer demands in the expected ways of serving, ordering, and paying in these recent times. This is the key benefit to having a technology partner within our Group. The retail stores lead the ideas of what the future of retail looks like, and Henderson Technology innovates and delivers these solutions for the Group and beyond."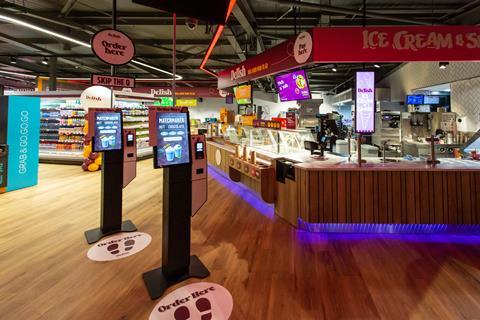 The future and next steps
Before Christmas 2022, the site is looking to introduce Savvy Shopper and electronic shelf-edge labels. "Savvy Shopper enables our customers to pre-order food-to-go and groceries and either collect these in-store pre-picked and packed, or alternatively have these delivered to their home or workplace," says Nevin.
The store also features all new energy-saving technologies, and one of the next projects will be around EV charging on the forecourt.
Darren Nickels, retail technology operations director at Henderson Technology, says: "Spar Mallusk is the latest store opening from Henderson Retail, housing the first ever Barista Bar Drive-Thru for Northern Ireland, complemented by Delish. It is a fantastic proposition, and we are enormously proud to be involved in this new future concept.
For more information visit www.henderson.technology