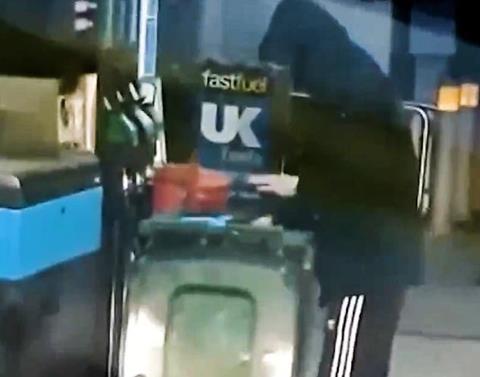 Footage has emerged of a fuel thief filling up a wheelie bin with petrol at a Co-op forecourt, and leaving the site by foot, with the bin in tow.
The incident took place the Co-op petrol station on Parsons Road, Washington, near Sunderland, and comes as fuel prices continue to soar.
It is believed there was a container inside the bin the man was putting the fuel into, rather than directly into the wheelie bin.
Newspaper reports suggested he stole petrol worth £143 and later returned and was able to do the same again.
A Co-op spokesperson said: "The petrol filling station has been targeted by a gang involved in motor fuel theft. The alarm was raised by colleagues and the matter has been reported to police."
A Northumbria Police spokesperson said: "On February 11, we were made aware of two alleged thefts from a petrol station in the Parsons Road area of Washington. It was reported that on both occasions, individuals entered the forecourt and stole quantities of fuel using a wheelie bin.
"An investigation has been launched into both incidents. Anyone with information is asked to contact police via the 'Tell Us Something' page of our website or by calling 101 quoting crime number 017319U/22."