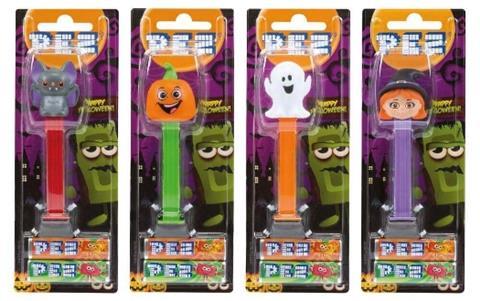 Confectionery wholesaler Hancocks Halloween range includes new launches from brands including Kingsway, Bubs, Bonds, Crazy Candy Factory and PEZ.
Pick 'n' Mix favourites from Kingsway include Jelly Filled Skulls, Monster Gummy Sweets, Witches Heads, Gummy Fingers, Pumpkin and Ghost Marshmallows and Jelly Eyeballs. The brand also offers a large range of vegan and vegetarian options including Jelly Pumpkins and Dracula Teeth.
From the Bubs brand there are Sour Skulls, in cola and fruit flavours, and peach flavoured Bubs Ghosts foamy gummies. These come in bulk bags so they can be added to your pick 'n' mix sweets display for £1.20 (rrp) per 100g.
Hancocks says shaker cups are great for sharing and gifting over Halloween. The Bonds of London Scary Pumpkins Shaker Cup (eight x 220g, rrp £1) is packed with jelly pumpkins. Also available are the Spooky Mix Shaker Cups, filled with Halloween themed pick 'n' mix sweets.
The Bonds Halloween range also includes fun sharing options like the Monster Mash bag (12 x 105g, rrp £1). It's a share bag of monster shaped fruity gummy sweets.
Retailers are encouraged to stock up on impulse options like the Bonds Halloween Mallow Pops 24 x 45g and Halloween Mallow Skewers, 12 x 45g, both rrp £1. They're strawberry flavoured marshmallow lollipops in the shape of Halloween characters.
Novelty lines from Crazy Candy Factory include the Bone Breaker candy puzzle, rrp £1, and the Halloween Pumpkin Light Pop, rrp £1.20.
Halloween character dispensers from PEZ are also available. There are four characters for kids to collect - a ghost, witch, pumpkin and vampire.
Chris Smith, marketing communications manager at Hancocks said: "People are already starting to prepare for the October 31 festivities and are on the lookout for themed treats to jazz up their Halloween party tables.
"We're expecting our new spooky range to be very popular among customers ahead of the Halloween celebrations, so we're advising retailers to stock up soon in order to cater to the demand.