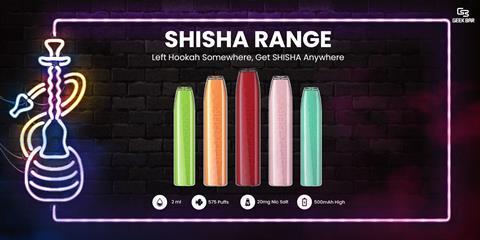 Geek bar has launched a range of shisha vapes, which will be available in all channels across the UK.
The vape includes 575 puffs and comes in various flavours, including: watermelon berries, Hawaii sunshine, pineapple guava, mixed fruit with rose, and strawberry kiwi.
The fruit flavoured range is designed to help more adult smokers quit conventional cigarettes.
Allen Yang is the chief executive at Geek Bar. He said: ""Shisha pipes have become increasingly popular in the UK, and we wanted to give those who smoke them a safer option just like we do for conventional cigarette users with a range of disposable vape products which have been a phenomenal success in the UK.
"Due to the popularity of Geek Bar in the UK, we're delighted to add this new shisha range to our product offering. We are plugging an important gap in the market which will support improved public health in the UK."
The new shisha range has 2ml e-liquid capacity and contains 20mg/ml nicotine to comply with UK regulations.
It will also use Geek Bar's new packaging, which was introduced to help combat counterfeit and non-compliant vaping products.
The new packaging aims to distinguish the legitimacy of Geek Bar's products by emphasising the positioning of the security code, allowing both retailers and consumers to check the authenticity of the product.