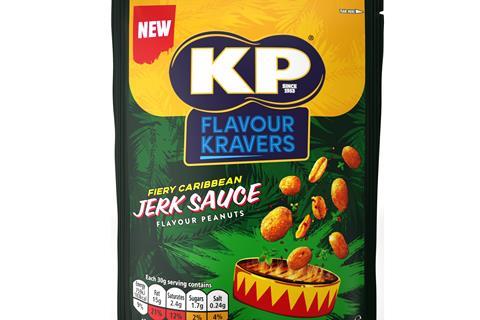 KP Snacks is launching KP Flavour Kravers – a new flavour platform within the KP peanut range. There are three bold flavours: Flame Grilled Steak; Smokin' Paprika; and Fiery Caribbean Jerk Sauce.
KP says it is expanding its portfolio to capitalise on taste, the number one crisps, snacks and nuts category driver.
Younger consumers are significantly influenced by flavours when making purchasing decisions (Kantar) and new KP Flavour Kravers aim to drive sales in this demographic. With sharing occasions for nuts continuing to grow in popularity, up 9.1% since 2019 (Kantar), and younger consumers in the nuts category over-indexing in bold flavours , KP says Flavour Kravers is perfectly positioned to capitalise on sharing occasions while attracting new younger shoppers to the category.
Flavour Kravers are available in 140g sharing packs with an rrp of £2.50. The new range is supported by a £150,000 PR and social investment, encouraging consumers to "awaken their inner Flavour Kraver".
Launched nearly 70 years ago, KP is the UK's leading nuts brand. It is worth £82.8m and is growing in value by 7.2% (Nielsen).