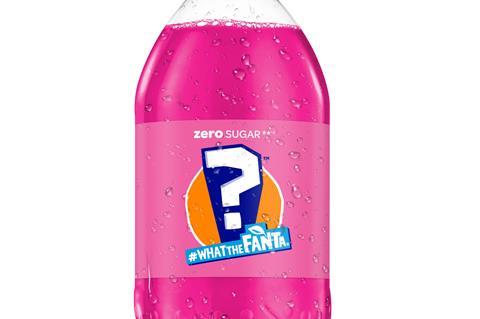 Coca-Cola Europacific Partners (CCEP) has announced the return of #WhatTheFanta with a new bright pink Fanta variant rolling out in 500ml and 2ltr packs.
After a successful campaign last year, consumers will once again be invited to guess the flavour of the new variant by scanning the on-pack QR codes. These then unlock a series of interactive online clues hidden within action-movie style videos which aim to sustain intrigue.
This year's #WhatTheFanta innovation will be supported by a multi-million-pound marketing campaign from April, including digital and out-of-home advertising, paid social media and pos materials to create theatre in-store and online. Convenience retailers can request pos via My.CCEP.com.
Martin Attock, VP of commercial development at Coke, said: "#WhatTheFanta brings together everything Fanta does best – disrupting the category by entertaining its growing fanbase while bringing innovative new flavours to market.
"The launch of the pink #WhatTheFanta variant follows a hugely successful campaign in 2021, which saw a mystery bright blue variant drive almost two times the rate of sale of Fanta Orange in the same period. In fact, 61% of #WhatTheFanta sales last year were incremental to Fanta, proof that the campaign attracts more shoppers to the brand and is sure to drive sales for retailers this year."