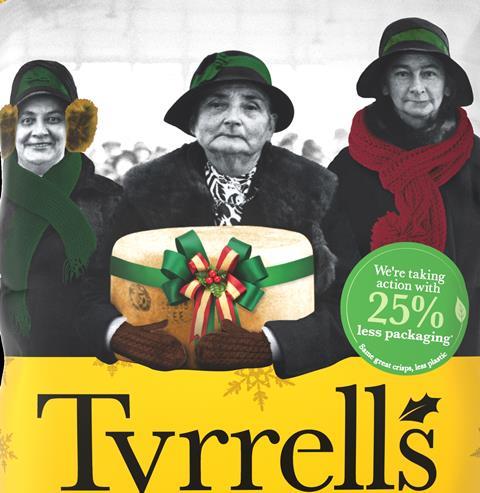 The top five flavours of premium snack brand Tyrrells are available in fun and festive packaging for Christmas.
Limited edition packs of Lightly Sea Salted, Mature Cheddar & Chive, Sea Salt & Cider Vinegar, Sweet Chilli & Red Pepper and Veg Crisps with Sea Salt will feature the familiar Tyrrells characters with a Christmas twist as they wear paper crowns, Santa and elf hats, or carry gifts with big bows.
Brand owner KP Snacks says the limited edition packs are perfect for capitalising on Christmas sharing occasions. Worth £1.4bn (Nielsen data), sharing is the largest segment in crisps, snacks and nuts (CSN), and sharing packs see a 74% increase in purchase over the Christmas period versus the rest of the year.
The festive Tyrrells packaging also features an on-pack flash highlighting the 25% plastic packaging reduction made across the range earlier this year as part of KP Snacks' ongoing commitment to reducing its impact on the environment.
Amy Heap, Tyrrells marketing manager, said: "Over the Christmas period, shoppers are willing to spend more on higher quality CSN products and Tyrrells crisps are the perfect premium option to tempt shoppers to trade up.
"CSN is a critical category to back at Christmas, with a value of £328m in December 2021, up from £300m the year before. Retailers should be sure to broaden their offering with premium options alongside familiar favourites to capitalise on the Christmas opportunity."