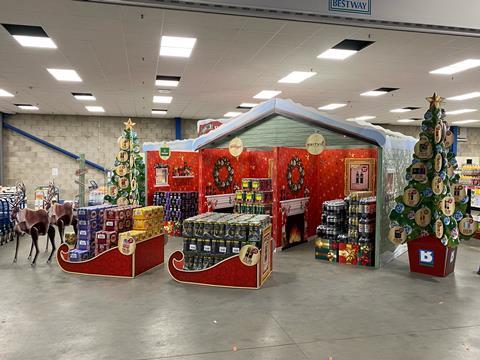 Bestway has launched its Christmas campaign across all its nationwide depots, representing over a quarter of a million pounds of investment.
'Your home this Christmas' sees a Christmas 'house' being constructed in 35 different depots with large sleighs and reindeers.
Retailers can visit the house, which has supplier branded rooms with product pallets that will rotate in four weeks to refresh the product offers.
Kenton Burchell, Trading Director for Bestway, says: "We are really excited by this Christmas campaign and believe it represents a first in UK wholesale with echoes of what consumers have come to expect on the high street.
"Now, retailers can enjoy large-scale fun which is interactive and engaging directly in depot and executed in a way that is highly professional and enjoyable. Our Christmas house encompasses theatre and is a perfect forum for suppliers to showcase their Christmas products. Never before have we looked to physically 'bring alive' Christmas in this way, or with such investment.
"What's really important here is that after a challenging two years for the whole industry, the whole concept is designed to support, appreciate and reward our customers, and our suppliers too."
Bestway have invested £56k in the retailer competition, which allows retailers to win a share of the prize fund. A winner will be announced every two weeks, receieving £250 in credit.
Burchall says: "We have devoted a significant sum to prizes and promotions to help retailers enjoy an ever more profitable trading over the festive period and boost supplier visibility at the same time.
"We hope the campaign will encourage our retailers to make Bestway their destination of choice to shop this Christmas to buy their festive products and by doing so, be rewarded – our whole aim is help them make more possible for their business and their customers this Christmas".