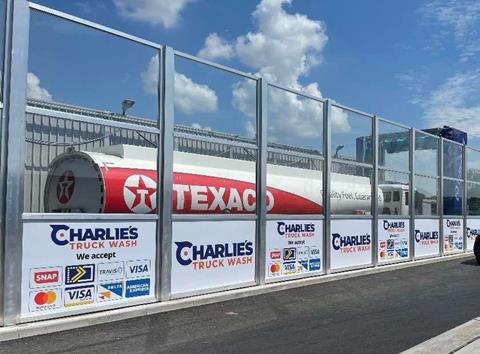 Top 50 Indie Ascona Group has signed partnership deals with two car wash companies as part of a planned investment to expand its provision for customers.
As part of one of the deals Ascona is set to become the first forecourt operator in the UK to install a Laserwash 360 Plus, a touchless car wash system from the US company PDQ Manufacturing.
The installation, at Hinton Service Station in Christchurch, Bournemouth, marks the start of a partnership between the two companies with plans to roll out the system to other sites across its 60-strong estate under the Ascona Group's brand, Charlie's Express Car Wash, later this year.
Ascona Group has also agreed a strategic partnership with WashTec UK that will see Ascona introduce a "first of its kind" truck washing facility at the Tenby Road site on the A40 eastbound in Carmarthenshire.
The truck wash employs a fully 'closed loop' total water recycling system, which the company says is the first of its kind in Wales. It recovers all water used within the wash process, filtering it for reuse with little or no water entering the mains drainage system.
Commenting on the announcement, CEO Darren Briggs said: "From the very beginning, we knew that our sites must present our customers with a unique and compelling offer which is why we are constantly seeking new and innovative ways to improve our roadside retail facilities.
"These two new partnerships further demonstrate our focus on creating industry-leading propositions and we are really excited to be working with PDQ Manufacturing USA and WashTec UK. Together, we are keen to continue to build on the success of these new operations and we are actively reviewing multiple opportunities across the Ascona portfolio to roll out more units such as these."