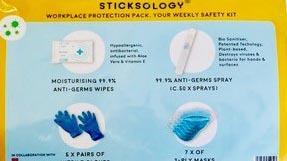 Sticksology has launched a convenient Weekly Personal Protection Kit offering an all-in-one personal protection solution of anti-bacterial wipes, sanitising spray, gloves and face masks, and it's now available to forecourts.
The company behind the new development says the safety kit is ideal for companies to purchase to aid an employee's return to work or can be sold by retailers as a convenient travel pack. The kit includes: 7 three-ply face coverings; masks – mandatory on public transport, and in other countries required within retail shops helps reduce transmission of droplets; 5 pairs of gloves – mainly used for commuting and within retail stores and petrol stations; 1 pack of 10 moisturising anti-germ wipes in a resealable pack - 99.9% hypoallergenic, antibacterial, infused with Aloe Vera and vitamin E; 1 bio sanitiser - plant-based; destroys viruses and bacteria for hands and surfaces. MRSP is £9.99.
Ricky Kothari, Sticksology founder, said: "We know people come to forecourts to buy in bulk and with the return to work for many over the coming months, we wanted to create one pack fit for a week. Whether people are traveling by private or public transport the pack has everything you need to maintain a high level of hygiene while commuting."
Sticksology will be donating 10% of profits giving back to mental health charities, Mind and Heads Together which focus on the welfare of others and are helping to improve lives every day.