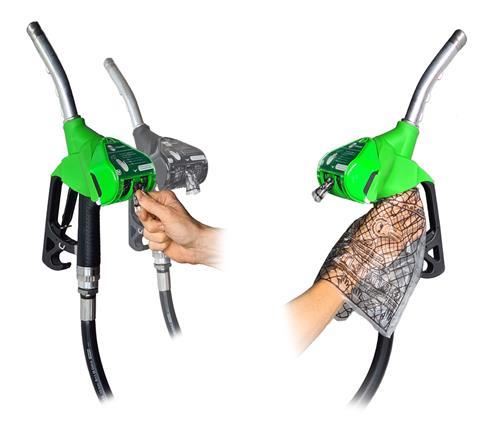 GripHero has launched a redesigned version of its fuel-nozzle mounted dispensers featuring 10% more advertising space than previous models.
The new GripHero 2 dispenser is 20% smaller overall, and is redesigned to take on board feedback from the industry and customers to create a sleeker, universally compatible and faster refill solution, reducing glove-refill replacement times by 90%.
The ATEX-certified dispenser, which is due to be exhibited at APEA Live later this week, is now compatible with a range of global nozzle types. The new dispenser design is also available as a surface-mounted unit, for use on EV chargers, canopy stanchions and applications beyond the forecourt.
The integrated display window allows fuel grade details to be switched with ease and provides forecourts with a larger area for product promotions and offers on-the-nozzle.
The extra advertising space has been created following independent research, which shows that 77% of drivers are more likely to make impromptu purchases of snacks, coffees, ice creams and in-store items if they have clean hands having refuelled.
Like all of GripHero's 2020 nozzle-mounted dispensers, the new GripHero 2 dispenser is tamper and impact proof, resistant to harsh fuels and chemicals, and is also temperature, weather, and UV-proof; preventing discolouration.
Oli Yeo, inventor and managing director of GripHero, said: "Since 2018 we've been adapting our dispensers to meet the changing demands of international forecourts and legislation. GripHero 2 takes all that learning and brings it together in an all-new dispenser. Combined with our new R100 glove cartridges, made from 100% 'open loop' recycled plastics, which cuts CO2 by 94% compared to conventional gloves, we continue to take a lead in helping forecourts to enhance their green credentials."
Luke Jenkins, sales and marketing manager of GripHero, added: "Even though the unit is smaller and more streamlined, GripHero 2 has an increased advertising space on the dispenser. That's important, because motorists find themselves looking at the fuel-nozzle advert for up to two-minutes. Larger advertising helps entice customers in-store to make multiple purchases; improving forecourt turnover at a time when margins on fuel are often slim."