Nisa shoppers can pick up all the ingredients for a fresh chicken salad for less thanks to the group's latest promotion.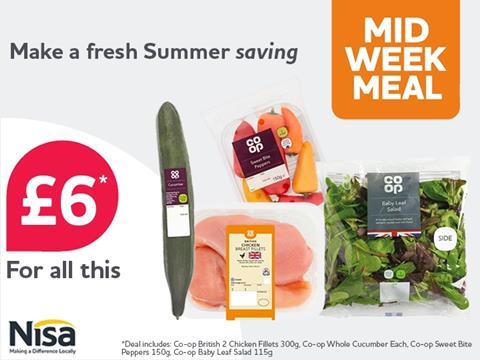 Nisa's current Midweek Meal solution is providing consumers with healthy meal ingredients that won't break the bank.
The offer includes Co-op Baby Leaf Salad 115g, Co-op Sweet Peppers 150g, Co-op Cucumber and Co-op British Chicken Breast Fillets 300g for just £6, saving consumers more than 25% off the rrp.
To complement the promotion and encourage shoppers to add to their basket, Co-op Limetree Chardonnay 75cl is also on offer at £5.50 a bottle.
"The summer season is here and with children across the UK now off school and at home until September, busy parents will be seeking quick, refreshing meal solutions that satisfy everyone's needs," said Darren Hamilton, wholesale category controller at Nisa.
"The versatility of this Midweek Meal means shoppers may view it as a main meal, a side dish to multiple meals, or even the perfect addition to a barbecue or buffet spread, so it's important that our retailers are positioning it in a high footfall area of their store to ensure maximum exposure."
The deal will be available until August 9.