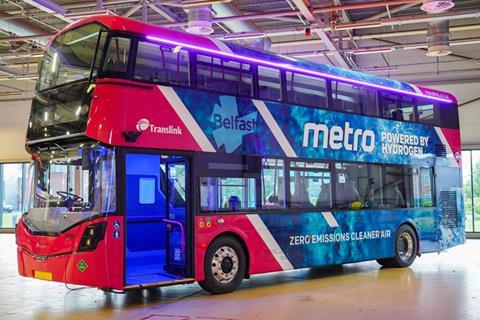 Sales of new diesel buses will be banned and £3bn will be invested in a strategy which includes delivering 4,000 zero emission replacements, the government has announced.
Prime minister Boris Johnson unveiled the plans which will also involve lower, simpler flat fares in towns and cities and turn-up-and-go services on main routes.
The prime minister pledged to provide 4,000 new British-built electric or hydrogen buses and to transition cities and regions across England to emission-free buses.
He also said sales of new diesel buses would be banned, and launched a consultation on the end date.
Johnson said: "As we build back from the pandemic, better buses will be one of our first acts of levelling up.
"Just as they did in London, our reforms will make buses the transport of choice, reducing the number of car journeys and improving quality of life for millions."
Jo Bamford, head of Wrightbus, which makes hydrogen double-decker buses at its base in Ballymena, said: "It is fantastic news that the PM is moving forward with his plans to invest in 4000 UK-made zero emission buses.
"Our buses are essential for improving air quality across the UK – they only emit water
"We welcome the PM's urgency to deliver these buses and we have a shovel-ready plan, with our partners in National Express and Transport for the West Midlands, to get 200 hydrogen buses on the streets of Birmingham in time for next summer's Commonwealth Games."