UK banks agree to share services to ensure communities have fair access to cash
Communities cash needs to be independently assessed by LINK (which already fulfils this role for ATMs), with the power to commission services to meet community cash needs
Shared banking hubs to be rolled out alongside free ATMs, enhanced Post Office services, and cashback without purchase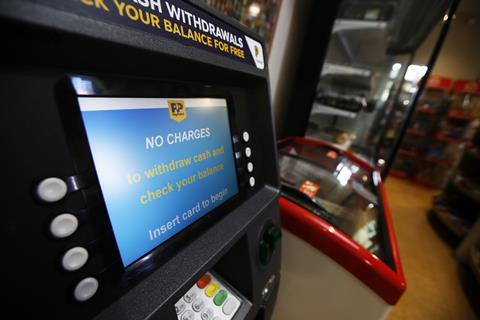 A landmark agreement reached between the major retail banks to share services, ensuring long-term cash availability across the UK, has been welcomed by James Lowman, chairman of the Association of Convenience Stores.
The collaboration, achieved through the Access to Cash Action Group (CAG), (all major retail banks, Age UK, Toynbee Hall and the Federation of Small Businesses (FSB)), marks the beginning of a long-term commitment to ensuring widespread cash and banking access for communities where services are limited.
CAG says cash use has been in decline in recent years – a trend accelerated and exacerbated by the pandemic – with current use 35% below pre-Covid levels. However, millions of people across the UK still use cash daily. Banks and consumer groups alike recognise the need to ensure that consumers and small businesses who need cash can continue to withdraw and deposit it.
Under the new model, any community that faces the closure of a core cash service, such as a bank branch or ATM, will have its needs independently assessed by LINK. LINK will then determine whether a new solution should be provided to meet that community's cash needs. LINK, which already provides ATMs where communities need them, will commission services to meet the cash needs of the community as a whole – not just the customers or members of one bank or building society. Communities will also be able to request a review of their community's needs from the summer of 2022.
Findings from ACS' 2021 Local Shop Report show that consumers think that two of the most valuable services offered in convenience stores are cash machines and the Post Office.
Lowman said: "Convenience stores trade across the heart of communities across the UK and we know that cash is still very important for a large proportion of our customers.
"We are pleased that LINK has outlined plans to review cash provisions when a bank branch closes but it is vital to also ensure areas which already do not have trading bank branches are not forgotten or left behind. The Government needs to act urgently and decisively on its earlier commitment to legislate to promote access to cash."
Natalie Ceeney CBE, chair of CAG and the Community Access to Cash Pilots, said: "I'm delighted that the industry is today committing to ensuring that the cash needs of consumers and small businesses up and down the UK will continue to be met. We know that demand for cash is declining, but we also know that it continues to play a vital part in the lives of at least five million people in the UK – including some of the most vulnerable in society. The community pilots have shown that there are many different ways to meet people's cash needs. Informed by this experience, I'm confident that the new plan will lay the foundations for a positive future for cash access across the UK."