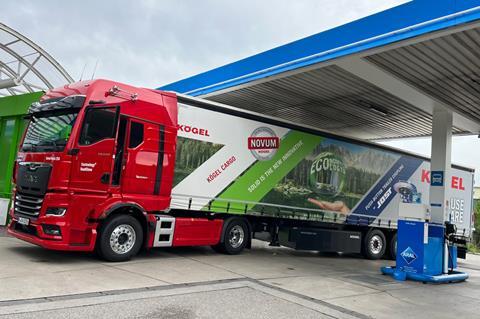 BP is to pilot its digital in-truck payments app, InTruck Connect, in the UK with the commercial vehicle maker MAN Truck & Bus.
BP InTruck Connect will be piloted as part of MAN's digital product, MAN SimplePay, a growing ecosystem of partners for all payment transactions around the daily operations of a truck. BP is the first partner to join the ecosystem for fuel payments.
Alexandru Eftimiu, vice-president of BP fleet Europe, said: "We aim to use digital technology to enhance the customer experience and provide the very best service to fleet managers while simplifying the refuelling process for truck drivers.
"With our InTruck Connect solution, drivers can refuel and be back on the road in three simple steps. Drivers just need to confirm the fuelling site on their MAN truck infotainment system, unlock the pump and refuel.
"The truck logs the transaction and pays for the fuel itself. InTruck Connect makes the process efficient and easy, so that drivers and managers can save time and have more security and transparency over their fuel purchases."
BP InTruck Connect will integrate into MAN's existing truck infotainment system. It requires an activated MAN telematics box and an approved BP In-Truck Connect account, but there is no additional hardware to get started.
The app automatically provides information on fuel purchases, mileage and other data to fleet managers, eliminating errors and removing the need for drivers to enter mileage themselves. It also connects fuel cards with truck data, to improve security and help identify potential discrepancies.
The pilot with MAN Truck & Bus is set to launch in the final quarter of 2022 in the UK with plans to extend into Europe in 2023.