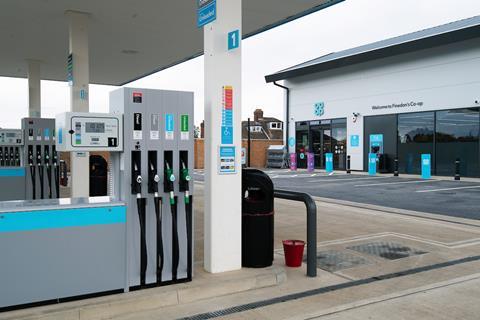 Co-op has served-up its newest food store and brought a disused petrol filling station back into use to serve the community in Finedon.
The convenience retailer has invested £750,000 to create a purpose-built new, larger, convenience store, and bring a petrol station back into use, supporting 19 local jobs.
Finedon's new 2,600 sq ft Co-op store includes customer car parking, bakery, Costa coffee dispenser and hot food, alongside an extended range of fresh, healthy products, meal ideas, award winning wines, ready meals and pizzas, free-from, vegan and plant-based products, Fairtrade, and, everyday essentials.
The store opens between 7am-11pm daily, and also includes click & collect of groceries through Co-op's own online shop – coop.co.uk/shop –for added ease, speed and convenience.
A funding boost is also provided locally through Co-op's membership programme. Membership of the Co-op unlocks additional value through in-store offers, and sees members rewarded with 2p in every pound they spend on Co-op branded products which is added to their own personal membership account balance. The Co-op also donates the same amount to local causes.
Students in Finedon who are TOTUM cardholders – the new name for NUS extra – receive a 10% discount at the Co-op.
Kieran Healey, Co-op store manager, said: "We have had a great response – we are delighted to have had the opportunity to carry out such a significant investment in Finedon to open Co-op's newest store! We have worked to develop an extended range, choice, products and services locally to create a really compelling offer to serve our community."
Ragesh Hindocha, Co-op area manager, added: "Co-op is committed to connecting communities and making a difference locally, and our aim is to operate at the heart of local life. We also want customers to know that they can become a member of the Co-op. In addition to unlocking additional value and personalised offers for themselves, our members help to make a difference to local causes - Co-op donates 2p in every pound to community causes when members swipe their membership card when buying own-branded products – so by shopping at the Co-op our members are also helping to make good things happen in the community."
Co-op has around 4.6 million active members, and alongside food, it operates: Co-op Funeralcare, Insurance and Legal Services.