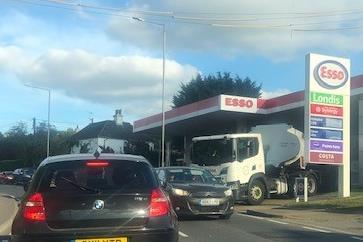 Competition laws have been suspended to enable fuel suppliers to work together as a full-blown fuels crisis erupted over the weekend with reports suggesting that up to 90% of forecourts have run dry following two days of appalling panic buying.
Long queues formed outside service stations nationwide as motorists panicked, with some even seen filling fuel cans, and led to several retailers rationing refuelling to £30 a time.
The situation followed leaks from a recent confidential submission to government officials by BP's head of UK retail, Hanna Hofer, expressing her concern about delays in the supply chain, impacted by the industry-wide driver shortages. The leak lead to front-page headlines across the national press.
The Business secretary Kwasi Kwarteng agreed to implement the temporary measure, known as The Downstream Oil Protocol, to enable the government to work with fuel producers, suppliers, hauliers and retailers to ensure that disruption is minimised as far as possible.
Business Secretary Kwasi Kwarteng said: "We have  long-standing  contingency plans in place to work with industry so that fuel supplies can be maintained and deliveries can still be made in the event of a serious disruption.
"While there has always been and continues to be plenty of fuel at refineries and terminals, we are aware that there have been some issues with supply chains. This is why we will enact the Downstream Oil Protocol to ensure industry can share vital information and work together more effectively to ensure disruption is minimised.
"We thank HGV drivers and all forecourt staff for their tireless work during this period."