The all-new Mercedes-Benz Evito electric van joins Speedy Freign's London fleet this month in collaboration with national retailer Argos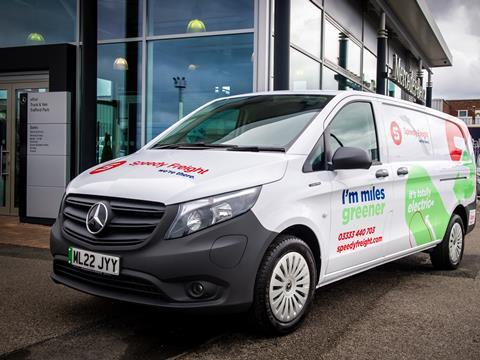 National same-day courier service Speedy Freight has announced the addition of electric vehicles to its fleet.
Launching as a partnership pilot in collaboration with Argos Higham Park Retail Hub, the first new vehicle is a Mercedes Benz eVito Electric Panel van.
Speedy Freight says that although a lack of commercial charging points and range issues are still seen as a common barrier to widespread commercial EV usage, the company is confident the introduction of the new eVito van will be the first of many additions to the nationwide fleet, initially in city locations.
Speedy Freight have partnered with Welsh Mercedes-Benz dealer eStar for the supply of their expanding fleet.
As part of the trial in London, teams are working hard to ensure journeys are planned as efficiently as possible, limiting the time vans will run empty to be more cost-effective and increase productivity.
John Munnelly at Speedy Freight said: "We're so excited to welcome our first ever electric vehicle to the Speedy Freight fleet. Given the rapid expansion of the business in recent years, it's essential we take as many steps possible towards achieving a carbon neutral logistics solution. We're delighted to be working with Argos on the launch of the eVito van, and we hope this will be the first of many electric vehicles to join the Speedy Freight fleet."
The same day courier brand operates over 60 branches across the UK, and has access to a fleet of 4,000 vehicles, ranging from full-weight artics to small vans. Despite recent challenges to the industry, the business has recently reported a compound growth of 39% this year, thanks to its expansion both in the UK and in Europe.