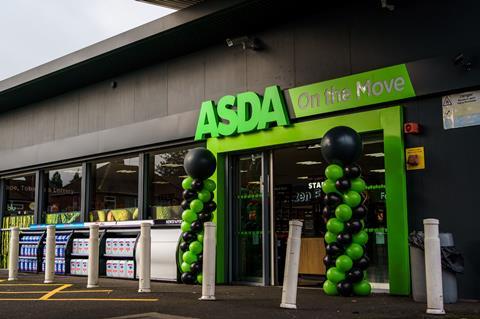 Plans to bulldoze two EG Group filling stations to make way for convenience retail and foodservice developments have been disclosed, making five plans by EG Group to replace filling stations in a month.
Both the new schemes are in Sunderland, with the Shell filling station and Spar store at The Broadway, Grindon, making way for a standalone Asda on the move convenience store, while the Barnes Filling Station and Spar store will be replaced by a KFC restaurant with drive-thru facilities.
Last month it was revealed that EG Group had applied for planning permission to demolish filling stations in Glasgow and Liverpool which it described as under-performing and to replace them with standalone Asda on the move stores.
Planning applications for both the Sunderland schemes have been lodged with the city council.
A planning statement by Asbri Planning, which also supplied documents for the Liverpool scheme, uses identical wording to justify the Broadway Scheme.
It states: "The existing PFS is underperforming. EG Group, a market leader in the provision of fuel sale throughout the UK are seeking an alternative use in order to avoid the prospect of a long-term vacancy at the site.
"The decommissioning of petrol filling stations is a time consuming and cost-hungry process. There are few prospective uses which would enable a viable redevelopment to be undertaken and a positive use brought forward at such sites.
"The use of the land as a convenience store would represent such a use and will result in a continuation of retail uses at the site, enable job retention / creation and an increased level of choice and value for customers who will overwhelmingly be drawn from the immediate locality."
As with the plans in Liverpool and Glasgow it states that a 24-hour Asda convenience store and parking are proposed for the site.
EG Group and Asda are separate companies, but EG Group's owners bought Asda late last year and they have been working closely together on plans to roll out Asda on the Move stores, but so far they have been on sites that have continued to trade as petrol filling stations.
For the Barnes site it is proposing a restaurant on the western half of the site, with a one-way traffic system and parking bays for customers and deliveries, as well as electric vehicle charging bays.
The plans show the development will offer both drive-thru facilities and an indoor seating area for customers.
The planning application form states the new development would create 50 new jobs, split between full-time and part-time roles.
A planning, design and access statement supporting the planning application states: "The existing building is of no architectural merit and is of a dated, run-down appearance.
"The application presents an opportunity for regeneration and to secure its replacement into something far more attractive and sustainable.
"The proposed building is contemporary and through enhancing landscaping across the site, the proposal will significantly improve the site's appearance.
"The site will appear far more open and green once the canopy has been removed and the landscaping has been put in place, thereby increasing the site's visual amenity."