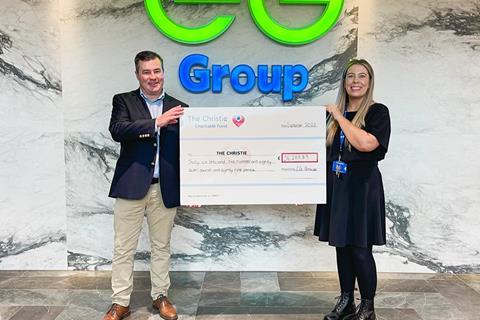 EG Group has raised more than £36,000 for The Christie Charitable Fund following a four-month partnership.
The Christie is based in Manchester and is the largest single-site cancer centre in Europe and the first in the UK to be accredited as a comprehensive centre, treating more than 60,000 patients a year.
The money raised from the partnership will go towards The Christie charity's Cancer Appeal Fund, aimed at allocating money to areas of greatest need, wherever that is within the hospital, at any given time.
Throughout the course of the charitable partnership, EG's UK sites were made fully available for collections, with several events held at EG's Waterside Head Office in Blackburn. Colleagues from across the business participated in fundraising activities including a hike up Mount Snowdon, which involved members of EG's management team.
EG also recently hosted 'The Great EG Group Bake Off' competition which saw colleagues bake a 'summer themed' cake. Guest judges Craig Bancroft and Lisa Goodwin Allen from Northcote, the luxury hotel and Michelin Star restaurant, and a representative from The Christie charity to choose their winner.
Mohamed Valli, foundations and CSR manager at EG Group, said: "We are grateful to all those who donated and were involved in our fundraising activities for charitable purposes. Partnerships like these support our aim of achieving a better future for our communities as we strive to make a difference where it's needed most."
Anna McIntosh, major relationship development manager at The Christie, said: "We could not achieve everything that we do here at The Christie without the support of businesses like EG Group. We are so grateful for everyone's efforts with fundraising through skydives, climbs, bake-offs and donations. The donations from EG Group will go directly to helping our cancer patients."