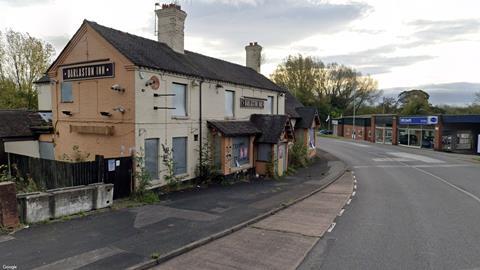 EG Group's plans to build a petrol filling station on a busy roundabout on the A34 in Staffordshire have been refused again.
The company's latest plans included demolition of the Darlaston Inn, just north of Stone, and redevelopment of the site to include a petrol station, convenience store, eight EV charging bays, a car wash, four jet wash bays, a vac/air bay, customer parking spaces and a picnic area.
Planning officers at Stafford County Council recommended that the plans be refused due to concerns about road safety. However, a councillor called them in for review.
According to the Express and Star, at a meeting last week Councillor James Nixon said that the site on the A34 had fallen into a poor state and needed to be brought back into use.
He said: "What does the council see happening with the old Darlaston Inn site should we not go ahead with this proposal? It's been vacant for a number of years now and fallen into a significant state of disrepair which routinely attracts vandals and antisocial behaviour, which requires police to make regular visits to the site to disperse them."
However, five council members voted against the application. One highlighted the number of petrol stations already in the area while others were worried by the speed of traffic around the roundabout.