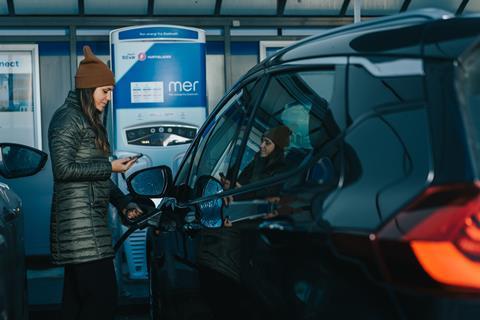 Renewable EV charging experts Mer have teamed up with fleet EV charging specialist Paua, to offer drivers a more convenient solution to keep them motoring.
Mer and Paua have agreed a roaming partnership, enabling Paua's fleet customers to use Mer's network of 160+ chargers whenever they need a power top-up while out and about.
The deal is part of Mer's commitment to support roaming across EV charging networks in the UK - which is a core part of Paua's business model.
Under the arrangement, Paua's mobile app fleet drivers can find, charge and pay at Mer's next-generation EV chargers at any site across the UK - simplifying the charging process for them.
It's one of a series of roaming agreement's Mer has already signed this year - including recent ones with Allstar and New Motion - to further its ambitions to help create an open and accessible EV charging network in the UK.
Paua's focus on fleet drivers also aligns with one of Mer's focus areas - namely supporting businesses to switch to EVs by making the installation of charging infrastructure as easy and cost-effective as possible.
Mer managing director, Anthony Hinde, said: "A core requirement in meeting the demand for EV charging across the UK is going to be roaming agreements, to minimise hassle for both fleet and private motorists.
"For that reason, we are delighted to have signed this deal with Paua - because the success of the UK's EV industry is going to need e-mobility start-ups like Paua to continue to succeed and innovate."
Paua managing director, Niall Riddell, said: "We want to enable fleets and business drivers to have confidence in their public charging as they extend their electric fleets beyond depot charging. Mer is an excellent partner for us with their commitment to establishing a more accessible and effortless experience, and so creating a smoother transition for British EV drivers.".
Mer - owned by Norwegian renewable energy giant Statkraft - claims to use only zero-carbon, 100% renewable energy sources to power its network, with the electricity generated solely by wind, solar and hydro sources. It believes that as the UK ramps up its transition to EVs - accelerated by the Government's 2030 ban on the sale of new diesel and petrol cars and vans - one of the biggest challenges motorists will face is being able to charge their vehicles where and when they need to.
It says that although charging infrastructure is being rapidly built across the country's major road networks, and at-home solutions are becoming cheaper and more effective, there are still several gaps where there is an urgent need for accelerated EV charging deployment. These include high-usage high-footfall locations like workplaces, public places, car parks, business premises and residential areas where people don't have access to their own garages or driveways.
Mer, which has years of experience building out EV infrastructure in Northern Europe, is focused on working with businesses and local authorities to serve these areas and help meet the estimated 400,000 public chargers needed by 2030.
Drivers can download the Mer app at the Apple Store or on Google Play.