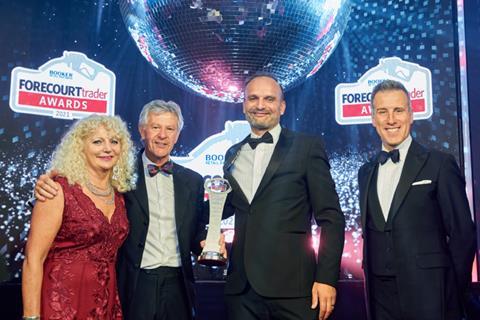 Exelby Services on the A19 in Northallerton was the Forecourt Trader of the Year Awards winner at last night's glittering ceremony at the Park Plaza in Westminster.
Hosted by Anton du Beke of Strictly Come Dancing fame, the nation's top forecourt retailers were recognised for their incredible hard work, high standards and innovation that has seen them emerge as the driving force of the future forecourt convenience generation.
"It's been an incredibly tough time for everyone in the retail sector, but forecourts have continued to adapt and meet those considerable challenges as they always have, whether it be managing a business through a pandemic as an essential service; preparing for net zero – or managing this week's queues and fuel shortages!" said Forecourt Trader editor Merril Boulton.
Exelby Services were victorious following a rigorous judging process which included the Forecourt Trader team travelling far and wide across the UK visiting those sites which had come through the early rounds of judging, and experiencing the forecourt service they offered first hand. When the scores were finalised, Rob Exelby and his team came out on top.
"This is a stunning modern forecourt convenience development whose owners have put a great deal of thought into its design and function," said Merril.
"They have also ensured the site has something of a wow factor by putting an F1 Ferrari on its ceiling. But that's not the only thing that puts it on the map and gives its customers something to talk about. The Shell-branded site offers a fantastic array of facilities and services to suit its customers, with appropriate environmental considerations, in a pleasant, spacious and easily accessible setting. Most importantly its top-scoring customer service levels are designed to deliver best-in-class to all its customers, every single time!"
There were many other winners on the night, including Visvanathan Yoganathan from J, P & S Services who won the Special Recognition Award, voted for by his peers, following a public vote on Forecourt Trader's dedicated awards website.
Best Oil Company Initiative went to Gulf Retail for its Dealer Rewards programme; while Shell was Highly Commended for its John Lewis Click & Collect partnership.
See below for the full list of winners:
FORECOURT TRADER AWARDS 2021 – WINNERS
FORECOURT TRADER OF THE YEAR WINNER: Exelby Services A19 North
REGIONAL CATEGORY
Best site in Northern Ireland 4mlpa plus
Maxol A26 Tannaghmore Services
Best site in Northern Ireland up to 4mlpa
Eurospar Hardford Link
Best site in Scotland 4mlpa plus
Abbiecraig Services
Best site in Midlands 4mlpa plus
Harleston Service Station
Best site in Midlands 4mlpa less
AKV Services
Best site in Northern England 4mlpa plus
Exelby Services A19 North
Best site in Northern England up to 4mlpa
Spar G&E Murgatroyd Maryport
Best site in Midlands 4mlpa plus
Harleston Service Station
Best site in Midlands 4mlpa less
AKV Services
Best site in West country and Wales 4mlpa plus
Ruabon Park Service Station
Best site in West country and Wales up to 4mlpa
East End Services
Best site in London & SE 4mlpa plus
Parkfoot Garage
Best site in London & SE up to 4mlpa
Fitch's Service Station
Best Motorway Services Outlet
Shell Cobham Motorway Services
SPECIALIST CATEGORY
Best Alternative Fuels Outlet
MFG Crow Orchard
Best Car Care & Lubricants Outlet
Abbiecraig Services
Best Coffee & Hot Beverages Outlet
Spar Fortfield
Best Community Engagement
Daly's Service Station
Best Customer Service
Spar Malone Road
Best Design & Development
Dunball Service Station
Best Food-to-go Outlet
Lisburn Supervalu
Best Forecourt Innovation
Maxol Portrush
Best Forecourt Loo of the Year
RaceTrack Autoport
Best Forecourt Team of the Year
Esso Abbeygate
Best Site Manager
Abbiecraig Services
Best Soft Drinks Outlet
Ascona Haunchwood Service Station
Best Valeting Facilities
Fraser's Budgens of Marlborough