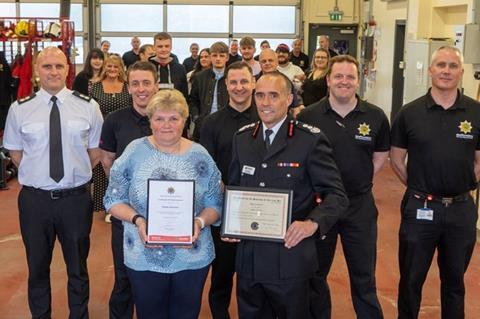 A petrol station assistant has received a bravery award from the fire service after saving the life of a customer who caught fire on the forecourt.
Debbie Swinson, aged 56, from Cheadle, was on shift at Essar-branded Brookhouse filling station, in Cheadle, on 27 July last year when the incident happened.
The man, who was handling a fuel pump, sustained significant burns after the liquid ignited.
Debbie, who witnessed the incident, immediately isolated the fuel supply to the pump and rushed to his aid, using a fire extinguisher to put out the blaze before firefighters arrived.
The man suffered 30% burns to his head, shoulders and upper chest, and was transported by air ambulance to a special burns unit at Wythenshawe Hospital, in Manchester.
Now Debbie has been presented with a chief fire officer's commendation from Staffordshire Fire and Rescue Service.
Crew manager Simon Filson, who attended the incident, said: "I would like to commend Debbie on her excellent quick-thinking during this traumatic incident, which ultimately saved a life.
"As a member of the public, there is nothing that can prepare you for such an event.
"The bravery she showed to rush to the man's aid and de-escalate the situation is something which has been rightfully recognised by the service."