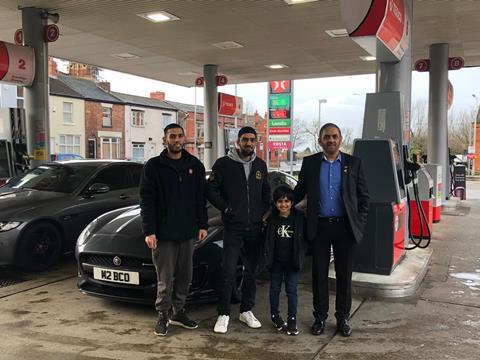 Fuel retailer Usman Patel recently celebrated 40 years of selling Texaco branded fuel at his three service stations in Greater Manchester.
Usman owns the Mabco Group sites: Caroline Service Station; Lancashire Hill Service Station; and Reddish Service Station. All the sites are located within 10 miles of each other in Stockport and have supplied fuel under the Texaco brand since Usman first became a tenant in 1980.
Usman said, "The time feels like it has flown by, but it's been 40 years since our first Texaco site and I have never felt the need to change supplier. The deals have always been transparent and competitive and they offer a great loyalty programme for our customers too."
He went on to say, "However, the main reason I've stayed with Texaco for so long is because of the people, who I've found to be honest, trustworthy and ready to help in any way. I know where I am with Texaco."
Andrew Cox, Valero's director sales and marketing, said: "Usman is an excellent retailer and we have a fantastic relationship with him going back many years. I'm delighted that we've been able to support Usman over the years and I'm extremely grateful for the help and assistance he continues to provide to ourselves and other Texaco branded retailers.
"Our aim is to focus on helping customers grow their business, and we hope to remain the preferred supplier of choice for Usman for many years to come. Congratulations on 40 great years Usman."
Usman developed an interest in working in petrol stations at an early age and started operating his first Texaco tenant site (Reddish Service Station) at the age of 18. A further nine Texaco tenant sites were acquired between 1980 and 1995, which were run as a family business with his three brothers.
In 1995 he decided to move out of the family business with two of the sites, Reddish Service Station and Lancashire Hill Service Station and a few years later acquired Caroline Service Station. Today, he continues to own and manage the three sites with his two sons Sufyan and Khalid Mohammed.
All sites have a Londis shop, jet wash and stock all grades of fuel including Supreme Diesel. His years of experience led him to become a founding member of Texaco's National Advisory Council, through which he has helped make improvements to business infrastructure and services and has tested new concepts that have benefitted Texaco retailers across the country.