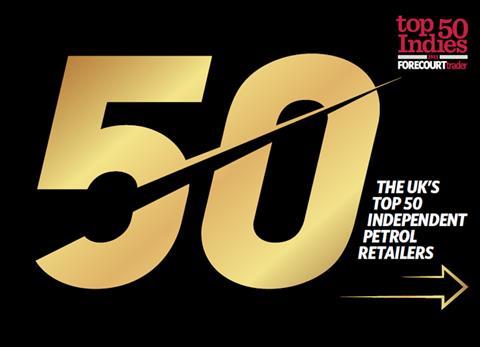 MFG has been confirmed as the number one in Forecourt Trader's 2021 Top 50 Indies, which was published this week.
The report demonstrates the resilience of the sector with not a single business failure among last year's Top 50, despite the challenges of the Covid-19 pandemic, and growth in the overall number of sites operated by the Top 50 to 2,417, compared with 2,360 last year.
There was no change in the order of the top six companies, and all but one increased the number of sites they operate. The ranking is based on the number sites owned and operated in the UK and MFG, with 911 sites, had more than twice second-placed EG Group's 396, up 8 and 12 sites respectively on last year's totals.
Other notable gains were reported by fifth-placed Penny Petroleum, up 8 sites to 70, SGN up 4 sites in sixth place, and Ascona climbing to seventh place with 57 sites, an increase of 12 over the previous year.
There was less volatility in the Top 50 this year, with just three new entries. Tankerford joined the list, and is ranked 33, Gardner Garages has moved up to 40th place having been bubbling under last year, and the current Forecourt Trader of the Year, Hockenhull Garages, has made it in and is ranked 41st. They replace two former Top 50 members who were taken over by bigger rivals, and one who just slipped down into the Bubbling Under category. MFG acquired AUK, which was ranked 45th last year with six sites, while KSC Worldwide, which had been ranked 38th with eight sites, sold seven sites to Certas Energy with the eighth going to Penny Petroleum. Exelby Services, which was ranked 50th last year, has a huge fuel volume, but as rankings are based on site numbers it just missed the cut this year.
The Top 50 Indies 2021 was launched with a webinar featuring presentations by William Reed managing director - retail & manufacturing, Lorraine Hendle, and Forecourt Trader editor Merril Boulton.
The webinar also featured interviews with EG Group commercial director Ilyas Munshi, talking about how the company coped with the pandemic lockdowns and plans for 2021, and Peter and Joe Hockenhull on developing The Stage, the site that won them the Forecourt Trader of the Year Award.
Click on the link to watch the Top 50 Indie webinar here.
Download the report here.