Pub retailer and brewer Greene King has formed a second partnership to deploy an electric vehicle (EV) charging network at suitable sites across its 2,700 managed and tenanted pubs.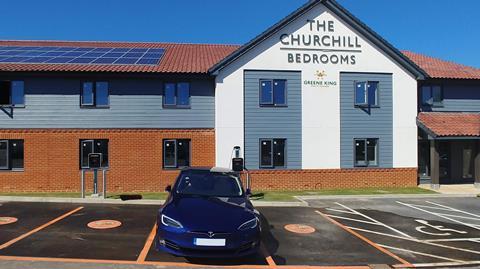 RAW Charging will fund, own and operate ChargePoint EV chargers across the Greene King-hosted network. The initial phase will contribute towards the installation of EV chargers in 900 of its managed pubs within the next 18 months.
Chris Burghardt, managing director - Europe at ChargePoint, said: "This partnership represents a critical step closer to the democratisation of EV fuelling, by bringing electric vehicle charging to towns and villages that have so far been missed off the map of the electric revolution."
"With the continued expansion of charging networks, we are enabling the UK journey to mass adoption of EVs by providing charging solutions that effortlessly fit into consumers' everyday lives. Needless to say we are very excited to be supporting RAW Charging on this journey with Greene King and are proud to be spearheading the move to the electrification of the UK's transport."
Tony Hodgson, head of estates at Greene King, said: "We've been working hard developing our sustainability plans as we continue to build a greener business. With more people buying electric cars in a bid to be more environmentally friendly, we want to support our customers who come to dine or stay with us by offering electric charging ports in our pubs that are able to do so."
The CP4000 and CPE250 rapid chargers will expand ChargePoint's network by more than 900, and will be available to drivers through the ChargePoint mobile app. The Churchill, in Royal Wootton Bassett, marked the launch of this Greene King network rollout, where four 22kW AC charging points are already installed and available for customer use.
Bruce Galliford, CEO of RAW Charging, a European partner of Silicon Valley-based ChargePoint, said: "In committing to host our reliable, easy-to-use, and fully contactless-payment enabled EV charging points, Greene King and its portfolio of prestigious pubs and hotels remain anchored at the heart of the local communities in which people live and work, by providing a crucial EV charging service 24 hours a day."
Greene King has also agreed a similar deal with Drive Energi, which will deploy Tritium 50kW DC charging points at strategic Greene King sites, with the first locations going live across the North West this year.