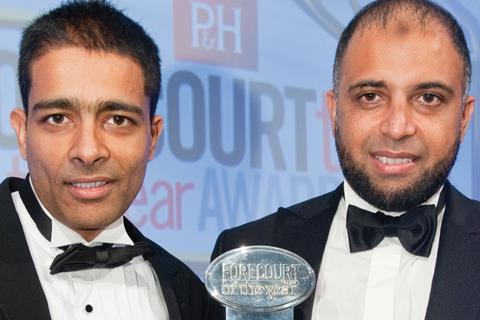 Zuber & Mohsin Issa, founders and co-CEOs of EG Group have been honoured in the Queen's Birthday Honours List 2020. Both brothers have been awarded a CBE for their contribution to business and charity.
They said: "We are truly honoured to have received a CBE and would like to thank the many people that have helped us along the way, including colleagues, partners, the people of Lancashire and our family. When we bought our first petrol forecourt in Bury almost 20 years ago, we could never have dreamed that we would be collecting such a prestigious award today. We plan to step up our contribution to good causes through our charitable foundations and this award will inspire us to do even more to support people in the communities that we operate, particularly the North of England."
The news comes just a week after the announcement that a £6.8bn deal to buy Asda had been agreed by the Issa brothers and private equity group TDR Capital. The transaction, which is subject to regulatory approval and expected to complete in the first half of next year, involves the Issa brothers and TDR Capital acquiring a majority ownership stake in Asda, but its current owner, the giant US retailer Walmart will retain an equity investment in the business, with an ongoing commercial relationship and a seat on the board.
Based in Blackburn (UK), Euro Garages was founded in 2001 Zuber and Mohsin with the acquisition of a single petrol filling station in Bury, Greater Manchester. Together they have led the growth and development of the business over the past 19 years into a leading global independent convenience retailer with a diversified portfolio of over 6,000 sites across 10 countries in North America, Europe and Australia.
The business set standards in the forecourt sector with its innovative approach to forecourt trading and a best-in-class customer experience for grocery and merchandise, foodservice and fuel; aiming to provide excellent service and good value; plus quality products at well maintained, convenient locations.
They have twice won the fuel retailing industry's most prestigious prize – Forecourt Trader of the Year – in 2011 and 2013. They rank at number two in the latest Top 50 Indies listing with 384 sites in the UK.