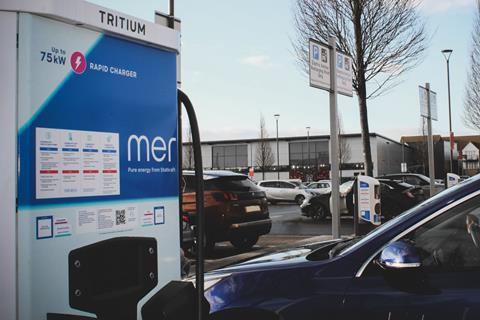 Mer, part of Norwegian renewable energy giant Statkraft, has agreed a deal with Blue Diamond garden centres to provide over 300 electric vehicle charge points at its 39 garden centres across the UK.
The roll out is due to start from September 2022 and will provide a range of 3kW chargers for hybrid drivers up to a maximum of 250kW. Most Blue Diamond locations will have four to six bays of flexed rapid charging from a minimum of 50kW up to 150kW depending on the number of bays in use. Customers charging their EVs will not incur costs for overstaying.
Mer claims its charge points have saved 145,335 kg of CO2 across Europe. Anthony Hinde, Mer UK – public charging managing director said: "Having Mer charge points at Blue Diamond's garden centres is great news for its EV driving customers and the environment. EV drivers can choose a renewable source of energy to charge their vehicles as they shop. So, they are making the planet greener at the same time as their gardens."
Blue Diamond claims to be the second-largest garden centre retailer in the UK, with sites across country.
Alan Roper, managing director of Blue Diamond Group said: "We are delighted to be working with Mer to provide sustainable EV charging on all of our sites across the Blue Diamond group over the next year. We are continuously searching for new ways to enhance the experience of our customers and Mer was an excellent fit for our ethos on the installation of charging stations in our car parks – thanks to the supply of 100% green energy to all chargers and a flexible charging option for our customers to use whilst visiting our centres."