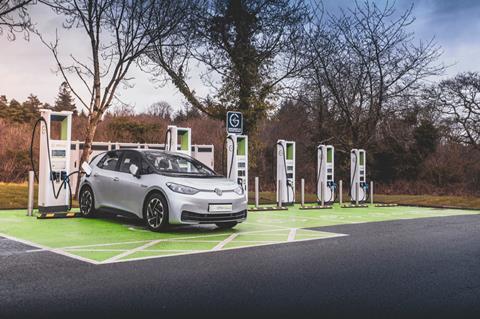 Wales' first high-powered electric vehicle (EV) charging hub has opened at Moto's Swansea motorway service area on the M4.
The hub is part of the Gridserve Electric Highway and currently has six 350kW high-power EV charge points, with the ability to quickly add a further six high power chargers if they are required.
Ken McMeikan, CEO of Moto, said: "At Moto, we are absolutely passionate about transforming the electric vehicle charging experience for drivers across the UK's motorways by delivering the capacity, reliability, simplicity and charging speed UK motorists need.
"We are accelerating our ambition to open Ultra Rapid Charging Hubs at all of our motorway service areas over the coming 12 months and are delighted with the progress that our partnership with Gridserve is making. We launched our first EV Hub with 24 Ultra Rapid chargers at Moto Rugby last year and EV drivers have loved it, we are super confident we'll see the same level of success here at Moto Swansea."
Toddington Harper, CEO of Gridserve, added: "Our mission is to accelerate the transition to electric vehicles in the shortest possible timeframes to help prevent the worst impacts of climate change. This is a landmark project for Gridserve and Moto and the first high-power charging facility of its kind for Wales. We're really excited to be demonstrating that all parts of the UK should be able to embrace the EV revolution. We cannot let a lack of infrastructure prevent drivers from realising the myriad benefits that come with driving an electric vehicle. This project will help deliver the confidence for more people to make the switch to EVs, as well as support the growing number of people who already have.
"Thanks to partners like Moto, we are rapidly upgrading Britain's motorway charging network and are prioritising areas of the UK that currently lack adequate charging infrastructure, by deploying more high-power Electric Hubs and Electric Forecourts. The Electric Hub at Moto Swansea is the first of many projects that we are aiming to deliver across Wales."
Mike Hedges, MS for Swansea East, said: "By 2025, Swansea is predicted to have one of the highest demands for EV charging in Wales as the uptake of electric vehicles continues to accelerate. Ensuring that we have the infrastructure in place now is fundamental to enabling more drivers to make this transition sooner. Gridserve's high power Electric Hub in Swansea is a step-change for rapid charging infrastructure in Wales and will support local drivers and visitors with the charging solutions they need."
Gridserve is planning to open more than 20 Electric Hubs – each consisting of 6-12 x 350kW ultra high-power chargers – at motorway services across the UK by the end of the second quarter of 2022. Gridserve is also progressing plans to deliver more than 100 Electric Forecourts across the UK, It opened the first Electric Forecourt close to Braintree, Essex, in December 2020, and sites at Gatwick Airport and Norwich are under construction, with more sites in development.
Since Gridserve's acquisition of Ecotricity's Electric Highway in June of last year, the company has already invested tens of millions of pounds in upgrading the network. In addition to opening the first Electric Hub at Moto Rugby, the company has replaced more than 300 Ecotricity DC rapid chargers and has installed 130 additional AC chargers.