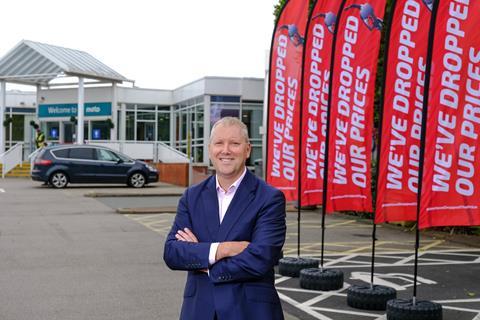 Motorway services operator Moto Hospitality is trialling an 8ppl fuel price cut at five of its forecourts as it aims "to deliver value to motorist during these difficult economic times".
Alongside the price drop, Moto's chief executive Ken McMeikan has written to the Chancellor of the Exchequer urging him to recognise the needs of motorists and cut VAT on fuel in line with the recent VAT reduction for the hospitality sector.
Moto is claiming its lower fuel price matches the average price at local petrol stations and is within 5ppl of average supermarket prices – unheard of for motorway fuel pricing which can be 10-20ppl higher than non-motorway sites.
The trial is being held at three of Moto's motorway services areas – Frankley on the M5, near Birmingham, Lancaster on the M6 and Donnington Park on the M1 near Derby.
If successful in encouraging more drivers to fill up their cars Moto plans to roll-out the price drop across all of the 47 forecourts it operates.
Moto is also urging the Government to play a pivotal role and cut VAT on fuel allowing forecourt operators to pass the benefit directly to millions of motorists through lower fuel prices.
Currently 57.95ppl of what a motorist pays for fuel goes to the Government in fuel duty plus 20% VAT, said Ken McMeikan, Moto's chief executive: "Times are tough and we know from our customer insight that motorists want to see lower fuel prices to help them make their money go as far as possible.
We are hoping that, subject to a successful trial, we will be able to roll out these fuel price cuts to all of our Moto operated petrol stations.
We are doing our part, but we hope the Government can provide some much needed help to motorists too. I have written to Rishi Sunak, urging him to make an immediate cut to VAT on fuel in line with his recent VAT cut from 20% to 5% for the hospitality industry.
"We welcomed that decision and immediately passed the full VAT cut on to our customers, which has gone down extremely well as people seek support during these tough economic times."
A cut in VAT on fuel would instantly put more money into people's pockets at precisely the time they need to be travelling again for work, visiting loved ones and during the expected increase in staycations."