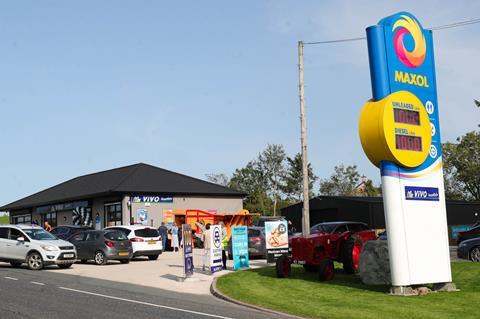 A six-pump Maxol forecourt has opened as part of a development of a new Vivo Essentials store in Tattyreagh, County Tyrone, in Northern Ireland.
The store, which is the 100th Vivo in Northern Ireland, is a £450,000 new build which is owned and operated by independent retailers Andrew Short and his daughter Laura.
Laura Short, who is store manager, commented: "Our store is a state-of-the-art 1,700sq ft store unlike any other in the area, and at this uncertain time, we're proud to have created 15 new jobs in our community as we continue to navigate this pandemic. Local shoppers can also be assured of strict hygiene and safety measures in store following local government guidelines.
"We're very proud to get the new store over the line and open for our local shoppers. We are providing new services to the area such as Barista Bar coffee, a hot and chilled food deli bar, and extensive array of fresh foods, as well as the latest tech innovation from EDGEPoS scanning. With services such as National Lottery, Paypoint, free to use ATM, a new six-pump Maxol forecourt with extensive parking and our own off licence, the store is a huge asset for the local area, and we're excited to join the network of independent retailers operating under this successful brand."
On the day, the team ran a series of celebratory £1 promotions for shoppers, including £1 per litre of fuel.