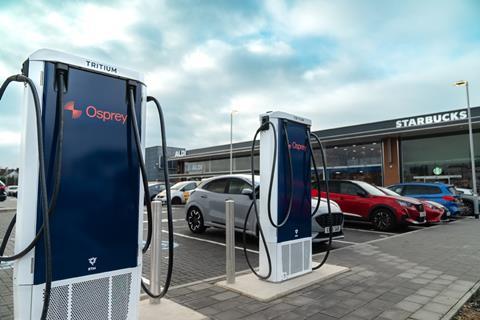 Osprey Charging has agreed a partnership with real estate specialist Ediston to install rapid EV charging across its portfolio of retail warehouse sites in the UK.
The partnership will provide rapid charging to customers visiting major retail brands such as Aldi, The Food Warehouse and Costa.
Osprey will cover all costs associated with installing and servicing the rapid charging points while sharing the profits.
Ten initial sites will host up to six 75kW chargers, capable of adding 100 miles in as little as 10 minutes. The first site is a hub located at Haddington Retail Park, East Lothian, currently under construction. Further sites are expected to go into construction throughout 2022, with further charging locations added to the partnership, in line with Ediston's expected acquisition of retail parks.
The charging sites will utilise Tritium 75kW chargers which balance the available power to maximise delivery to the car.
Graham Lind, head of retail warehouse asset management at Ediston, said: "With EV registrations increasing year-on-year, we're fast approaching a new era of electric transport. On-site EV charging at retail parks will soon become an essential offering and customers will expect to be able to charge their vehicles wherever they shop and our tenants will expect us to provide the infrastructure which enables them to do so. Osprey has a proven record in delivering reliable, easy to use and rapid chargers and provide the perfect solution to attract the rapidly growing number of EV driving customers to our sites."
Patrick Sherriff, business development director at Osprey Charging, said: "Retail parks are prime locations for EV charging, allowing drivers to top up their EVs while making use of the retail facilities on site. Forward-thinking companies like Ediston are ensuring they stay ahead of the curve by ensuring their sites are equipped to meet the needs of the growing market of EV drivers. By 'grabbing the grid' and securing vital connections for rapid EV chargers before its competitors, Ediston is positioning its sites as the go-to shopping destinations for EV drivers."
The deal supports Osprey's plans to roll out 150 high-powered EV charging hubs by 2024 as part of a £75m investment programme.