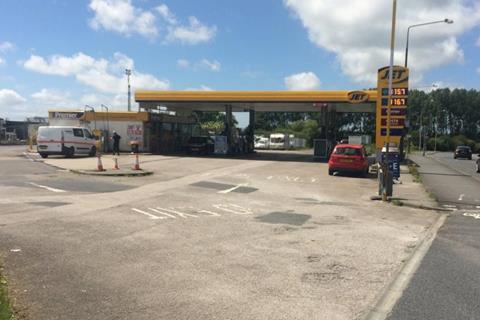 A planning application to knock down and rebuild a petrol station and add a drive-thru Costa outlet has been submitted to Preston City Council.
Petromex Forecourt Services wants to carry out the development at Jet-branded Lea Gate Service Station, which fronts the west-bound A583 Blackpool Road in the city.
The existing site comprises a 68sq m petrol station with a 262sq m canopy, underground petrol tanks, cars sale lot and storage compound. The site also housed an OK Diner which has been demolished and there is existing planning permission for a 258sq m drive-thru and 32-bedroom hotel.
The new proposal is for a 372sq m petrol filling station including a Spar convenience store and parking for 27 vehicles with two disabled parking bays and charging for two electric vehicles. There would be four underground tanks, with four starter gate fuel islands under a 319sq m canopy.
There would also be four new jet wash bays and a dedicated HGV lane with three pumps, which would operate 24 hours a day. In addition there would be a 167sq m drive-thru Costa Coffee unit with parking facilities.
The site entrance allows access straight into the forecourt, drive-thru and HGV pumps to the rear of the building. The rear HGV lane is detached from the other traffic accessing the drive-thru and PFS retail.