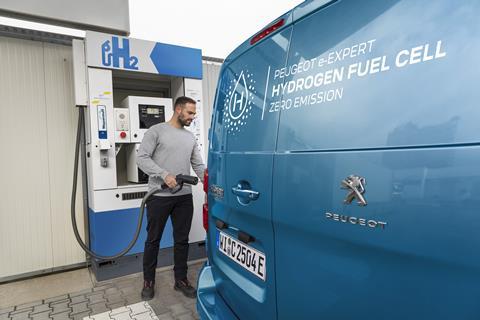 The very first production hydrogen vehicle from Peugeot - the e-EXPERT van - has left the production line this week, making it one of the very first manufacturers to offer, in addition to its combustion and battery electric variants, a hydrogen fuel cell vehicle in the commercial vehicle segment.
Peugeot, a subsidiary of global car manufacturer Stellantis, says the e-EXPERT Hydrogen van integrates a new hydrogen fuel cell electric powertrain in the engine compartment and underbody – resulting in no compromise in terms of load volume compared to the diesel variants of the EXPERT, and a low centre of gravity – improving vehicle stability and safety.
Based on the battery powered e-EXPERT, the Peugeot e-EXPERT Hydrogen is now available for deliveries - although it is not currently on sale in the UK.
The e-EXPERT Hydrogen is the latest development of PEUGEOT's 'Extended power of choice' strategy, enabling customers to choose from a wide range of powertrains that best meets their needs.
The new PEUGEOT e-EXPERT Hydrogen features a hydrogen fuel cell system combined with a 10.5kWh battery that helps power the electric motor. Teh manufacturer says a full refuel with compressed hydrogen takes just three minutes, resulting in 249 miles (WLTP) of electric range, and a maximum speed of 80mph.
The e-EXPERT Hydrogen is available in two lengths, Standard and Long. Both variants share identical load volumes with the diesel and petrol variants. It is described as a practical, zero emissions solution for a variety of businesses and fleets.
Linda Jackson, CEO of the Peugeot brand, said: "With the e-EXPERT Hydrogen, Peugeot is taking the lead in a future zero-emission technology that is particularly relevant to the light commercial vehicle market: hydrogen electric technology allows intensive daily use without the need for recharging, a decisive advantage for professionals who, in a single day, have to cover several hundred kilometres on the motorway and then enter emission-restricted urban areas. The hydrogen technology developed by Stellantis and implemented in our PEUGEOT e-Expert Hydrogen makes such uses possible."
She said hydrogen is now becoming a major pillar of the energy transition with the announcement of different international projects. The new model is built on the production lines of the Stellantis competence centre dedicated to hydrogen technology.