Wales' first-ever renewable biomethane refuelling station for HGVs opens in Bangor
New station marks ReFuels' 13th refuelling station, as demand for the low-carbon fuel skyrockets across the country
Hosting 12 fuel pumps, the new station can refuel over 500 HGVs daily, enabling fleets to cut emissions by over 90%
Serving North Wales' busiest trucking routes, the Bangor station opens low-carbon deliveries to and from Ireland via Holyhead Port
As part of the HyHAUL consortium, CNG Fuels is working alongside industry to deliver the largest hydrogen mobility corridor in the UK.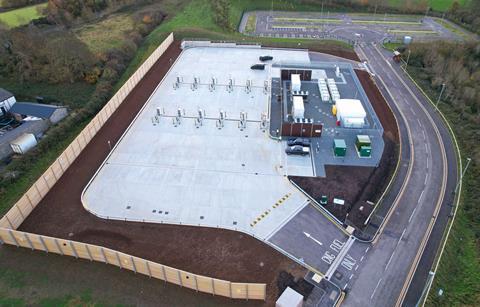 Wales' first-ever renewable biomethane refuelling station for HGVs, with the potential of cutting over 60,000 tonnes of CO2 every year, has opened close to the North Wales Expressway.
ReFuels NV, one of Europe's leading suppliers of renewable biomethane (Bio-CNG) for the decarbonisation of heavy goods vehicles (HGVs), said the opening of its 13th low-carbon refuelling station was the first station of its kind to open in Wales.
The company said the new site, with 12 pumps capable of refuelling over 500 HGVs daily and cutting over 60,000 tonnes of CO2 annually, makes low-carbon deliveries a reality for the hundreds of fleets travelling through North Wales every year.
According to government figures, HGVs account for 4.2% of UK carbon emissions, making the sector a key component of the UK's goal to achieve net zero by 2050. In Wales, transportation has apparently been the slowest sector to cut pollution over the last 30 years and is responsible for 15% of Wales' total emissions.
Renewable biomethane – derived from food waste and manure – is described as the lowest-carbon, most cost-effective alternative fuel to diesel available to HGVs today, cutting emissions by over 90% while providing up to 40% lifetime fuel cost savings.
ReFuels said the site in Bangor will play a fundamental role in addressing emissions from the heavy goods sector. Located in Parc Bryn Cegin, just off Junction 11 on the North Wales Expressway, the company said it is ideally situated to serve major trucking routes connecting North Wales to England and opens up routes to Ireland through the nearby Holyhead Port.
Philip Fjeld, CEO & Co-Founder of ReFuels, said: "From Inverness to Cornwall, Bangor to Ireland, our network of renewable biomethane refuelling stations is making low carbon logistics a reality right across the British Isles. As the first station to open in Wales, our Bangor site serves a critical transport route for fleet operators, enabling low-carbon deliveries between Wales, England and Ireland for the first time.
"Every day, fleets – spanning major brands to local hauliers – are slashing emissions by over 90% using our fuel. Our nationwide network of refuelling stations has turned net zero ambition into a reality for fleets across the UK, and with our plans for 30+ new stations by 2026, we're just getting started."
The new station is a joint venture between CNG Fuels, the infrastructure arm of ReFuels, and sustainability-led investment management company, Foresight Group.
ReFuels said demand for Bio-CNG from fleet operators is skyrocketing. In July 2023 alone, the compan7 saw an 80% increase in fuel dispensed compared to the same period in the previous year. The company supports over 80 major fleets, including DHL, Royal Mail, Warburton's, Lidl, Amazon and Waitrose to make immediate cuts of over 90% to fleets.
Glen Morgan, Operations Manager at Dixon Transport – one of the companies planning to use the new station – said: "Already, a number of our HGV's have travelled over a million kilometres on low-carbon, 100% renewable biomethane and thanks to CNG Fuels' growing network of public access stations, we'll be going even further.
"CNG Fuels' newest station in Bangor brings far more than convenience - it is a strategically important location, opening up routes to and from Holyhead, for both Irish and UK fleets. We now have a fleet of 22 bio-CNG trucks, operated by both Dixon Transport and Carna Transport, and they have been an invaluable addition to our fleet, helping us to slash emissions by up to 90% versus our comparable diesel HGVs."
To meet the growing demand for low-carbon, renewable Bio-CNG, ReFuels is aiming to open between 30-40 new stations by 2026, with a total capacity to refuel 15,000 HGVs every day, and dispense more than 600,000 tonnes of renewable biomethane annually – equivalent to cutting the UK's HGV emissions by 8%.
The company is also preparing for a multi-fuel future, with plans to host hydrogen trials across CNG Fuels' sites, to ensure that when different technologies develop and become commercially viable, the infrastructure is ready to support. As part of the HyHAUL consortium, CNG Fuels is working alongside industry to deliver the largest hydrogen mobility corridor in the UK.
The group has one more station under construction in Aylesford in Southeast England and expects two further stations to commence construction during the financial reporting year ending 31 March 2024.