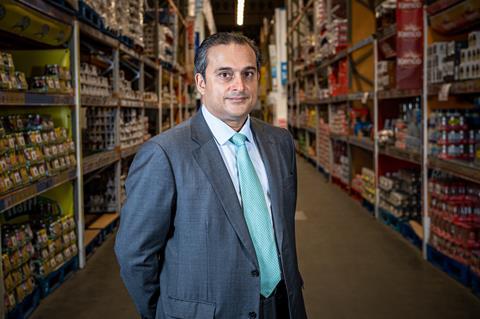 Impulse purchases will be boosted when schools re-open on March 8, according to Dawood Pervez, managing director of Bestway Wholesale, as he reacted to the Prime Minister's statement on the easing of lockdown restrictions.
"There are a number of key factors to take into account, not least the timing of how lockdown restrictions will be eased," said Pervez. "The next three to six months will be very important to independent retailers and we would look to reassure our customers that we are here to support them every step of the way:
"With schools opening on March 8, this will also mean increased 'feet on the street' in respect of impulse purchases (which have taken a big hit during the pandemic and throughout lockdown), with increased consumption of food to go, including fruit, snacks, soft drinks and confectionery. That has to be good for the independent retailer serving their local communities.
"The early indicators are that people will be steadily returning to the workplace – not everyone will continue to work from home. All the above reasons mean that for convenience retailers, there's a lot to play for over the next three months. Don't let's forget we are then into the Euros (football) where there is likely to be increased levels of home viewing which means an increase in 'take-home packs' and we anticipate that consumers will want to collect premium beers, wine and ciders from their local stores. For many consumers, there will inevitably be an abundance of caution in how they re-engage socially and professionally meaning their community stores will remain a real lifeline."
He said research undertaken by both the ACS Retailer Road Map and TWC's Future of Convenience that around 47% of consumers are saying that they intend to continue to use their local convenience store post lockdown and remain loyal.
Bestway would support its retailers in a number of ways, stressed Pervez: "We are continuing to promote the value and vital role that community stores play and ensure that we give retailers a collective voice across Government' departments and the industry as a whole.
"We are providing our fascia stores and retail club members with consumer leaflets to promote the key promotions and trends that underly the key consumer trends to drive footfall to stores. And, we are supporting our retailers through investing in progressive technology platforms to help grow and aid their business such as the JISP online ordering app which has seen those retailers who engaged with the app, enjoy increased basket sales of some 500% from online orders since we launched it at the end of 2020.
"We have launched new pilots, exploring hybrid offers that are meeting the changing needs of consumers during this time, and working closely with our suppliers to ensure product innovation to meet fast-changing consumer needs".
Last week's acquisition of Costcutter (CSG) takes Bestway Wholesale's estate to more than 3,795 stores in the UK, (including 2,682 fascia and 195 company owned).