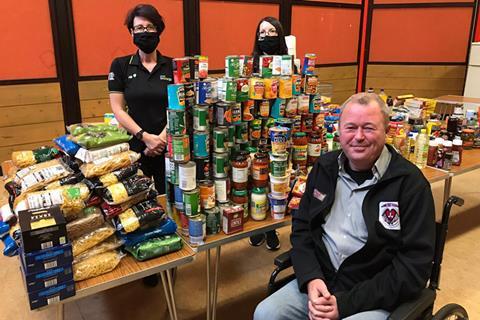 Top 50 Indie Sewell on the go has organised a campaign to help feed vulnerable families in the East Yorkshire communities that its forecourt stores serve.
Sewell on the go launched its four-week Big Local Harvest campaign in mid-September after recognising how essential food banks in Hull and the surrounding areas had become, particularly during the Covid-19 pandemic.
Teaming up with East Hull and Beannie Street Food Banks, the business encouraged customers and staff to buy an extra non-perishable item while shopping and place it in the donation basket at any one of its 13 stores across Hull and the East Riding.
More than £1,200 worth of items were donated, with a further £500 worth of items donated in-kind by Sewell on the go and a financial donation of £800 from the business to be used towards running costs, keeping the food bank vehicles on the road and buying additional supplies.
More than 300 tinned items, over 200 bags of pasta and dozens more bags of rice were donated, alongside hundreds of toilet rolls, cereals, nappies, toiletries, tea bags, flour, sugar, tea, coffee, long-life milk, condiments, noodles, crisps and more.
Following this latest call for donations, the business has now donated more than £5,500 to local food banks during the pandemic, as well as providing fresh fruit and vegetables to hospital staff and discounts on food and drinks for key workers.
Robbie Keane, founder of East Hull and Beannie Street Food Banks, which is run by volunteers, said this latest campaign and its successful response has helped them through a time when emergency food and support is needed more than ever.
Robbie, who founded the food banks three years ago following his own personal experience with homelessness and his desire to give back to the community which supported him, said: "The donations from the Big Local Harvest will help at least 250 families of three or four, which is amazing.
"This generosity has touched my heart because this will be life-changing for some families, some of whom haven't had food for two weeks.
"I find myself lucky that I don't need to use food banks. But for those who do, it is so vital and so important, and these food parcels will make such a difference to the families.
"Sewell on the go and its customers have done so much to support us and without them, those families would have to go without food.
"In-work poverty is a huge problem in Hull and these people have jobs, but they still need help. Others have lost work because of the pandemic and we want to do all we can to help them."
During the peak of the lockdown period, East Hull and Beannie Street Food Bank volunteers delivered 3,000 food parcels per week to those in need across Hull and the surrounding areas.
The food banks primarily source the items they need through FareShare, the UK's national network of charitable food redistributors, which has costs associated with it.
Sewell on the go has previously donated items to East Hull and Beannie Street Food Banks, but this is the largest dedicated campaign of its kind for the cause to date.
Sewell on the go operations manager Allison O'Sullivan and sales manager Emma Kordhaku led the Big Local Harvest campaign on behalf of the business, coordinating donations and spreading the word among colleagues and customers.
Allison said: "This couldn't be possible without our loyal and generous customers and we want to thank everyone who has donated."
In these difficult times, everyone wants to do their bit and support those in need and communities are looking out for each other. We're really pleased with the response to this campaign."
Emma added: "It's great to be able to do something positive, especially during such challenging times.
"We're very lucky and blessed to continue working, and we want to be able to help others."
Over the last 12 months, Sewell on the go has supported more than 60 charitable and community causes including Hull for Heroes, Yorkshire Air Ambulance, Hull Animal Welfare Trust, Pocklington People's Pantry and The Sailors' Children's Society.