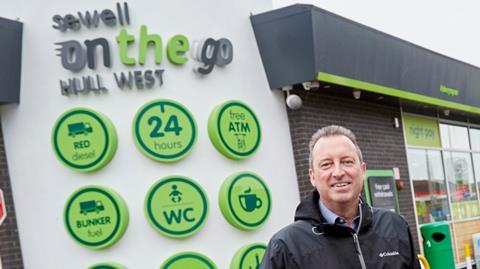 Top 50 Indie Sewell on the go has partnered with rugby league team Hull Kingston Rovers and local charity East Hull/Beanie Street Foodbanks to provide a drop-off point at the stadium on matchdays throughout the rest of the season.
The foodbank drop-off will allow supporters to donate £1, £3 or £4 for a ready-made food parcel, or bring along their own non-perishable foods to the drop-off point located just inside the main entrance gates to the stadium.
Sewell on the go managing director Patrick Sewell said: "It's a sad indictment that foodbanks are so critical to so many people. We've worked with several locally over recent years by setting up in-store collections and matching all customers donations, raising much-needed food and essentials. On this occasion, it's great to work alongside Hull Kingston Rovers and East Hull/Beanie Street Foodbanks and look to promote this cause to an even wider audience."
Sewell on the go operations manager, Allison O'Sullivan highlighted the importance of the new partnership. She said: "The work the East Hull and Beannie Street food bank does is so important – now more than ever. With so many people relying on their help, we're trying to do all we can to best support them.
"Partnering with Hull KR opens up new doors and we're making it as easy as possible for people to donate at the matches by providing ready-made donation packs at £1, £3 and £4 to suit people's budgets. We're hoping this way, we'll be able to collect as many donations as possible for this very worthy cause."
Hull Foodbanks have seen a surge in demand since the first covid-19 lockdown with founder Robert Keane keen to keep supporting the local community:
"Since lockdown, we have experienced huge demands from people looking for support, not only with food but also with electricity and gas. The true impact of how covid has affected our community is so damaging. As a foodbank, we try our upmost to alleviate some of these family's worries.
"Without the help from businesses and organisations like Hull KR, this would not be possible. To have wonderful people involved like Sewell on the go and Hull Kingston Rovers can only suggest the kindness that is out there and how, as human beings, we care for our community.
"Every little helps. It might mean very little to someone to donate a tin of soup, however, this could effectively be someone's only meal of the day. We receive very concerning phone calls and emails, let alone texts on a daily basis that has truly opened my eyes to the state of poverty that surrounds us all."
Hull Kingston Rovers chief executive Paul Lakin, is pleased the club can assist and give something back to the local community. He said: "We pride ourselves on being in the heart of the community and this initiative further demonstrates our commitment to that. We know what a tough 15 months the pandemic has been for everyone, and that many families are finding themselves in difficult circumstances. We hope that those supporters who can, support this initiative and get behind it."