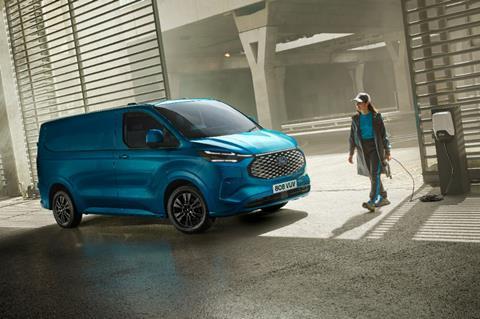 The Society of Motor Manufacturers and Traders (SMMT) is calling on the government to draw up a 'van plan' to encourage take-up of electric vehicles in the commercial sector, to help it meet its net zero target.
Its call came as it published research showing more than half of van owners say they are discouraged from switching to an electric van due to a lack of chargepoint infrastructure.
An SMMT survey by Savanta ComRes found that 57% of people who own or lease a van in the UK are worried that they wouldn't be able to find a public charging point when they need it.
SMMT's report said vans directly support around one in 10 workers in Britain, acting as the workhorse for sectors such as construction and industry, trades such as plumbers, landscapers and cleaners, and home delivery services which grew rapidly during the pandemic.
With more than four million vans on the road, it said electrifying the fleet will substantially reduce the UK's transport-related carbon emissions, while also delivering cleaner air in cities.
More than a third of all new van models now on sale come with a plug, but despite electric van uptake doubling in the last year, these vehicles still account for just one in 20 new van registrations, meaning the market is currently about two years behind that of cars, where uptake of zero emission cars is closer to one in five.
With vans facing the same 2035 end of sale date for non-zero emission vehicles as cars, however, the automotive sector is calling on all stakeholders to match its commitment to drive the electric transition.
While just one in eight owners say they don't plan to ever switch to an electric van, the vast majority (88%) say they would go electric by 2035 but a fifth of these owners say they will defer the decision for three to seven years.
However, many people (58%) suggest they might be convinced to buy an EV sooner if there was a greater number of public charging points. The availability of government incentives such as reduced tax or grants towards purchase would also steer 57% of respondents towards a zero -van.
The SMMT says there is a paucity of standard public charge points with one available for every 32 plug-in vehicles on the road, and many public chargepoints designed for cars will not be suitable or in the right locations for vans, which typically need a larger parking area.
As a result, it asserts that van charging provision must be factored into national infrastructure plans, with and binding targets for charge points for passenger cars and commercial vehicles to match the commitments of the automotive industry.
SMMT chief executive Mike Hawes said: "Britain's businesses run on vans and if we're to deliver the nation's carbon emission cuts, we need them to move to electric. There's an electric van to suit every business case, but we need a 'van plan' to ensure zero-emission driving works for the millions of people for whom their van is their livelihood and the millions more who rely on these workhorses for the delivery of their daily needs.
"The automotive industry is getting these new technology vehicles into the showrooms. We need government and other stakeholders to match our commitments to get them out on the road."