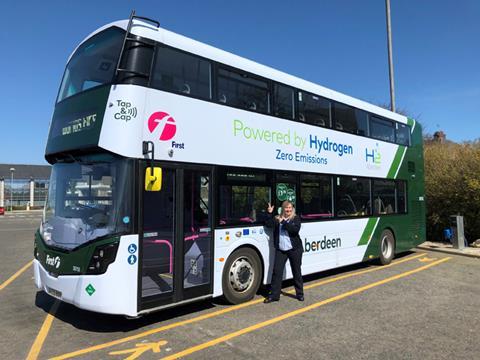 Abereen's hydrogen bus fleet has been taken off the road as a precautionary measure, due to a technical issue.
Run by First Bus – one of Scotland's largest bus operators – in a project led by Aberdeen City Council, the hydrogen buses have been described as a major step forward in reducing climate change.
First Bus said an issue had been identified with its Hydroliner double decker hydrogen buses and the vehicles had been taken off service until the technical issue could be resolved. However, the manufacturer said it is a mechanical problem, and not a hydrogen-related issue, and that most of the buses would be back in service very soon.
Ian Gillott, Wrightbus Parts & Service director, said: "During routine checks last Thursday, a Parts & Service engineer picked up an issue with a mounting bracket at the rear of a Hydroliner in Aberdeen. After undertaking a thorough maintenance check, we decided to upgrade and replace the part on the entire fleet to ensure we don't see a repeat of the issue. The fleet has been temporarily removed from service as a precautionary measure in the short term until the upgrade is complete.
"This issue has only affected our Hydroliner double decker buses - all our other models remain in service. This is a mechanical problem and not a hydrogen fuel-related issue.
"We'd like to apologise for any inconvenience caused while the work is undertaken. Our incredibly skilled workforce in Ballymena is already working to rectify the problem swiftly. This shows the value of having a homegrown workforce and a factory which works closely with operators.
"Our buses have an enviable safety record, and our Hydroliners were the first of their kind in the world and have saved more than 1,500 tonnes of CO2 in comparison to their diesel counterparts. We're looking forward to getting them back on the road as soon as possible."
Last April it was reported that the hydrogen double-decker buses in Aberdeen had notched up their first major milestone – completing 100,000 miles of operation. In the three months since their launch the fleet of 15 First Aberdeen buses, manufactured in the UK by Wrightbus, had saved 170,000kg of CO2 from being released into the atmosphere – the equivalent of taking 42 cars off the road for a year.