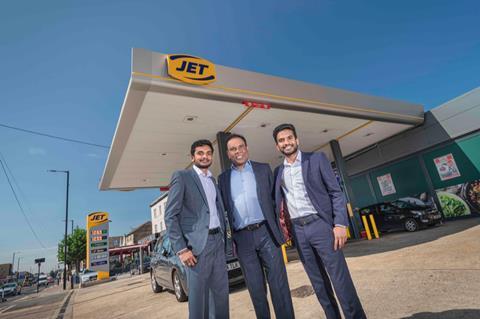 Top 50 Indie JP&S Services has reopened Hertford Road Service Station as a Jet-branded site following an extensive refurbishment.
The site in Enfield, which was previously BP branded, has been closed for two-months during which time the height of the canopy has been raised by a metre, the buildings re-modelled to provide 2,000sq ft of retail space and the look and feel transformed by the Jet branding.
"Raising the canopy has given the site real impact," said Sukanth Yoganathan (Suki) who joined his father Yogan in the business 18 months ago.
"As well as offering better access, the site feels more open and really makes a statement - especially at night when the under canopy LED lighting and the yellow and blue Jet branding really pops. It's now a first-rate forecourt experience."
The newly-branded Budgens retail space will offer a broader product range including a dedicated food-to-go area with bakery and hot food plus specialist drinks including self-service f'real milkshakes and Tango Ice Blasts. There are also plans to introduce products from local suppliers to better serve the local community.
Commenting on the transformation Chris Murphy, retail account manager, Phillips 66 said: "This site is hugely impressive and is testament to the family's drive and belief in their business. It's great to see Suki and Priy joining their dad Yogan and area manager Vas in the business and we couldn't be happier with how the site looks. There is no question that it's going to be a huge success, continuing to serve the community."
JP&S Services now operates four Jet sites with Hertford Road joining Ockford Road, Tilthams and Phoenix Green.