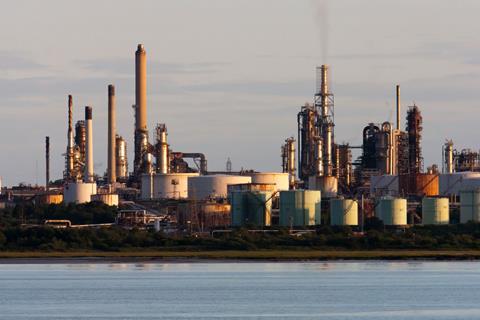 Pay strikes at Exxon's Fawley refinery near Southampton will escalate in June risking petrol supply disruption at a sixth of the UK's petrol stations, Unite the Union has announced.
Unite, which claims to be the largest trade union in the UK, with 1.4 million members, revealed that strikes are now scheduled for June 9, 10, 16, 17 and 20. The strikes would follow the action taken by 100 workers - who make up a third of the contractors at the Fawley Refinery - who took three days of strike action in April and May over a 2.5% pay offer and a lack of sick pay.
Fawley is the UK's largest refinery, supplying a sixth of petrol stations nationwide and all airports.
Unite's statement said that as some workers, who are employed by Trant Engineering Limited, Veolia Services and Altrad Services, provide safety critical services, strike action could lead to shutdowns across the plant.
Unite general secretary Sharon Graham said: "Exxon made a staggering £6.25 billion in 2021, so there is no reason whatsoever to deny Fawley workers a fair deal on pay and company sick pay.
"There is still time to avoid further strikes but Exxon and the employers must come back with an offer that our members can accept."
Unite's Veolia members carry out safety critical work such as the removal of sewage and hydrocarbons and emergency works. Other members are involved in supplying petrol and diesel for garage forecourts.
Unite regional officer Malcolm Bonnett said: "Not only are these workers being treated as second class employees, by refusing them company sick pay, Exxon and the employers are encouraging people who are ill to work.
"At a site where flammables are handled and processed, it is simply not safe to have people forcing themselves to work while sick because they are worried about their incomes falling off a cliff. This is the case at Fawley and it needs to end."
Meanwhile ExxonMobil released the following statement: "This matter relates to pay negotiations between Unite the Union and its members, employed by Trant, Altrad and Veolia, who provide routine third-party maintenance services.
"We do not anticipate that the proposed action will impact on operations at Fawley, or on supplies to customers.
"We continue to encourage all parties to work together to reach a resolution."