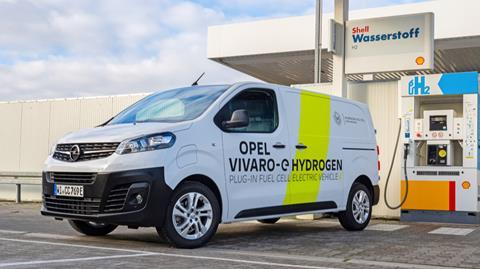 Vauxhall's sister brand Opel has started production its first hydrogen-fuelled van, the Vivaro-e Hydrogen.
It is being launched in Germany but Vauxhall says it is speaking to business customers in the UK about the vehicle and expects right-hand drive versions to arrive from early 2023.
The first Vivaro-e Hydrogen off the production line will join the fleet of domestic appliance manufacturer Miele. The hydrogen fuel cell vehicle will perform daily field service in the Rhine-Main region.
As production of the van started, Uwe Hochgeschurtz, Opel CEO, commented: "With the new Opel Vivaro-e Hydrogen we are opening the next chapter in our sustainable mobility offensive. The clever concept combines the advantages of hydrogen fuel cell propulsion with the versatility and capabilities of our best-selling light commercial vehicle."
Marcus Lott, head of development, added: "The new Vivaro-e Hydrogen perfectly meets the requirements of fleet customers. The hydrogen van is the ideal solution for driving long distances with zero-emissions-in-use as well as for transporting larger loads without losing time while charging the batteries. The Opel Vivaro-e Hydrogen leads zero-emissions mobility into the future, especially for commercial use."
The Vivaro-e Hydrogen is based on the existing battery electric Opel Vivaro-e, and its manufacturer states that with full tanks of hydrogen – which take about three minutes to refuel – the driving range is more than 249 miles.
Plug-in capability offers the opportunity to recharge the battery externally if necessary, providing 31 miles of pure battery electric range.