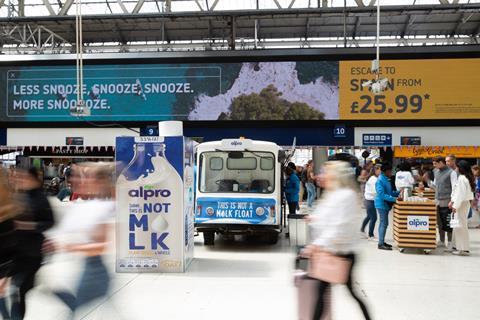 Alpro is kicking off a multi-million-pound cross-channel campaign to mark the launch of a new oat-based drink, This Is Not M*lk.
The M*lk Believe campaign is designed to challenge perceptions around the taste of plant-based alternatives to milk and encourage consumers to try them.
The campaign is supported by primetime television spots, and digital activity will see Alpro This Is Not M*lk creative broadcast across YouTube as well as a full funnel partnership with Amazon.
A month-long sampling activation via Alpro's This is Not a M*lk Float will drive trial with 70,000 consumers across the campaign period, at multiple high-footfall sites across London and Birmingham, as well as Sainsbury's and Tesco stores nationwide. A further 40,000 samples will be distributed straight to the homes of potential shoppers, in partnership with the UK's leading recipe box provider, Hello Fresh.
Anna Kochanska, head of marketing at Alpro UK & Ireland, said: "The launch of Alpro This is Not M*lk has provided us with an exciting opportunity to bring plant-based to a previously untapped audience, the 15 million households across the UK who have yet to be swept up in the plant-based revolution."
"We know that taste is still a barrier that some consumers have not been able to overcome in order to give plant-based a go, despite the extensive range of alternatives already on the market. It's with these customers in mind that we have worked so hard to create Alpro This is Not M*lk, with a taste that's so familiar, we hope to inspire and delight consumers with the fact that This is Not M*lk – it's M*lk Believe."
Alpro This Is Not M*lk is made from European oats and is available in two varieties with an RRP of £1.90: a smooth and mild Semi, and rich and creamy Whole.