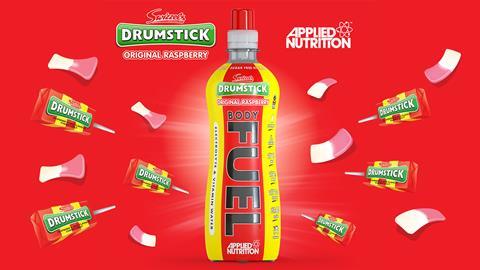 Building on its exclusive, long-term flavour partnership with Swizzels Sweets, UK-based sports nutrition brand Applied Nutrition has launched a Drumstick Original Raspberry flavour of its electrolyte and vitamin water Body Fuel.
Applied Nutrition says Body Fuel has been a huge success, with the company selling six million units since its launch last December.
Now available in seven flavours, including a Paddy Punch flavour variant endorsed by the UFC fighter Paddy 'The Baddy' Pimblett, Body Fuel has secured listings with several wholesalers and national retailers.
National account controller, Dan Warburton, said: "As a new brand in this category, we knew the importance of amplifying our message to a broader audience. Working with a brand as iconic as Swizzels and being trusted to authentically represent their famous flavours has enabled us to do this.
"We knew the partnership would only work if the flavour was a genuine re-creation of Drumstick Lollies, which have been a beloved treat among consumers for generations, so perfecting the taste that millions know so well was essential.
"We worked closely with Swizzels to turn their one-of-a-kind flavour into a drink and we're delighted with the result – extremely nostalgic! The feedback we've received so far has been incredibly positive and we can't wait for more consumers to get their hands on Body Fuel Drumstick to see for themselves."